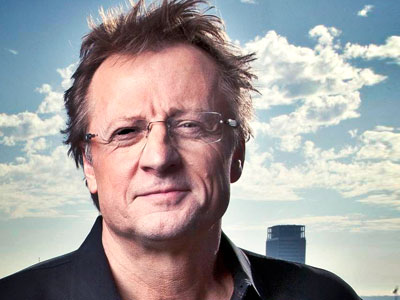 Known internationally, Phil Cooke counsels churches, ministries and nonprofits.
Phil Cooke has advised many of the world's largest and most effective churches, ministries and nonprofit organizations during the last 30 years and has helped them navigate the incredible changes happening in today's rapidly shifting, media-driven world. He holds a doctorate in theology and is a well-known speaker and author.
CONNECTION TO OUTREACH MAGAZINE: Cooke has written articles exclusively for OutreachMagazine.com, including "5 Big Media Mistakes Churches Make." He also was interviewed, along with Brad Abare, for the feature "The Personality Factor" in the 2009 Outreach 100 special issue.
Phil Cooke on 10 Secrets of Building Great Teams »
PHIL SAYS:
From "5 Big Media Mistakes Churches Make":
"What does it say about the culture in which we live that the recent Egyptian uprising was led by a Google employee? If we're going to share our life-changing message with a culture desperately in need, then we would do well to master the techniques for getting our message heard and understanding the power of today's media."
From the book JOLT! Get the Jump on a World That's Constantly Changing (Thomas Nelson):
"Commit to a life of creativity and original thinking. Dress differently, drive home an unusual way, look at your job from a new perspective, stop taking people and things for granted. A life of creativity is a wonderful world where you'll encounter new possibilities and see the world from a distinctive viewpoint."
From the 2010 National Outreach Convention:
"It's not enough to just be a great preacher today. You have to also figure out how to cut through the clutter of other media."
HOW TO LINK: Connect with Phil at his blog, PhilCooke.com, on Twitter at Twitter.com/PhilCooke, or on Facebook.
BOOKS BY COOKE:
Jolt! Get the Jump on a World That's Constantly Changing (Thomas Nelson, 2011) Read a sample chapter »
The Last TV Evangelist: Why the Next Generation Couldn't Care Less About Religious Media (Conversant, 2009)
Branding Faith: Why Some Churches and Nonprofits Impact Culture and Others Don't (Regal, 2008)
Creative Christian Media: Secrets of Successful Media Ministry (Xulon, 2006)
Successful Christian Television: Make Your Media Ministry a Reality (Authorhouse, 2003)

GOT A QUESTION OR COMMENT? Post a comment on this page, or send an email.

Each issue of Outreach is designed to bring you the ideas, innovations and resources that will help you reach your community and change the world.