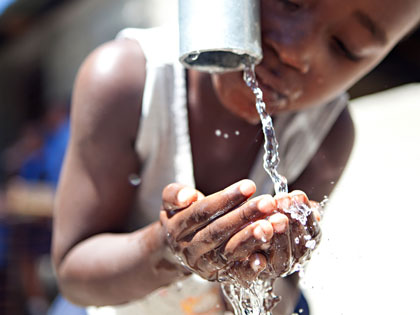 Encourage attendees to buy a little less this Christmas and use the saved money to help others, like funding water wells overseas.
Launched by four churches in 2006, Advent Conspiracy urges people to reduce their Christmas spending and use the money to serve others instead. Your church can join the movement and make a difference too.
At Stroudsburg Wesleyan Church in Pennsylvania, even cash-strapped churchgoers have embraced Advent Conspiracy, says Co-Lead Pastor Lynda Keefer. She recalls that a single mother showed up to the church to make crafts for her loved ones rather than buy them gifts so she could donate more to Advent Conspiracy. Stroudsburg Wesleyan has raised thousands of dollars to create wells for several hundred Haitians in need of clean water.
Tim Morey, lead pastor of Life Covenant Church in Torrance, Calif., says he wanted to participate in Advent Conspiracy because he considers "Overblown consumerism and materialism" to be major problems.
"People are receptive to this idea that Christmas doesn't have to be this huge, consumer blowout," Morey says. "We can use the money we save to benefit those who don't have much."
In the few years that the church has participated in Advent Conspiracy, Life Covenant has raised thousands of dollars to support orphans in Mozambique.
Commonwealth Chapel in Virginia has raised tens of thousands of dollars for needy Africans by participating in Advent Conspiracy during the past three Christmases.
"It's been incredible because people have responded in a way that helps reshape their views a little bit," Commonwealth Associate Pastor John Wagler says. "We always fight the consumer culture in ministry, and this has allowed people to do that in a tangible way."
Chris Seay, co-founder of Advent Conspiracy and lead pastor of Ecclesia Houston, says Advent Conspiracy began because pastors grew tired of seeing Christians "digging a hole at Christmas and not a foundation that brings you closer to Christ."
Although the overall impact the movement has had is difficult to measure, the four founding Advent Conspiracy churches have raised nearly $2 million to help the needy, Seay says. Worshipppers at Ecclesia Houston specifically have helped people in countries such as India, Nigeria, Liberia and Haiti gain access to clean water.
Find more Christmas outreach ideas »