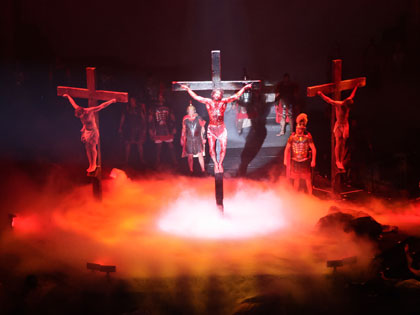 The live show or a church kit with video of the live performance provides a great experience for guests.
Reach people in your community during the Easter season with the stage production that combines acting, music, dance, gymnastics, martial arts, pyrotechnics and more to create a compelling portrayal of the passion of Christ.
Each year, Thorn Productions takes The Thorn to cities across the country for live performances, and resources are available for individual churches to bring The Thorn experience to their congregations as well.
Denver United Church partnered with three other Denver-area churches to bring the live stage production The Thorn to Magness Arena at the University of Denver, near the on-campus site of Denver United's weekly worship services.
"Bringing your friend who isn't a believer to church with you is, to many in our church, a bridge too far," Lead Pastor Rob Brendle says. "But bringing them to a Broadway-caliber theater production at Easter … it was an easy step for them. We had a tremendous number of church members inviting family, friends, non-Christian co-workers and residents of their neighborhood."
The Thorn's stops in 2013 include Denver, Colorado Springs, Colo., Nashville, Tenn., and Charleston, S.C.
Thorn Productions and Outreach Inc., the parent company of Outreach magazine teamed up to create a kit that makes the elements of the live stage production available to churches as well.
The production is updated each year, and this year, Risen: A Thorn Easter Experience Church Kit includes a new DVD of the complete stage production; worship songs with audio track, lyrics and matching video; a new customizable sermon; three dramas with scripts, instructions and a training video; a planning guide and promotional materials; and more.
Find more Easter outreach ideas »