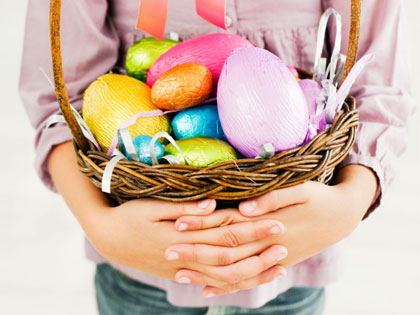 Guts Church in Tulsa, Okla., connects with kids with special needs and their families at special Easter event.
Kennedy Fowler, 7, is blind. In the past, she's participated in Easter egg hunts, but other kids always beat her to the goodies. But in 2011, at Guts Church in Tulsa, Okla., Fowler walked away with an overflowing basket. The hunt was tailor-made for children with special needs, and the eggs she found contained audible beeping devices that let her track them down with no external help. Her only competition for the eggs came from others with visual impairments.
The egg hunt was part of a special needs Easter party at Guts Church on the Saturday before Easter. Beeping eggs were hidden for visually impaired children. For those with autism, the church roped off a special section in a quieter area, and for people in wheelchairs, the church hid eggs containing magnets, retrieved with metal poles provided to each participant. The eggs contained candy, change or even paper money, with the occasional large bill.
"There's never been anything in the area specifically for special needs kids," Kennedy's mother, Crissleen Fowler, says. "We were so excited, and she thought it was the coolest thing ever."
Fowler directs ministry to 1- and 2-year-olds at Guts Church and says that since the event, several autistic children and their families have attended the church. Guts Church provided hosts who interacted with participating families and let them know the church could meet their needs. Every participating family also was invited personally to attend Easter Sunday services, says Bryan Tyler, events director at the church, which averages about 1,700 in Sunday morning attendance.
The special needs outreach was part of Guts Church's annual Servolution event focused on providing practical service to the community for the seven days leading up to Easter. In addition to the egg hunt, activities included a duck pond, door prizes and a petting zoo. Approximately 250 people attended, including about 50 with special needs.
"We felt it was very important to reach out to those families," Tyler says. "We wanted to offer our services and show them we care. It seemed like a challenge for us, but looking around, we hadn't seen a lot of churches doing anything like this."
People within the church who have family members with special needs provided suggestions for making the Easter outreach work. That communication soon branched out to local schools with special needs departments. Incorporating those connections made the event not only possible, but simple to execute, Tyler says.
The 50 people with special needs required about 70 volunteers, each of whom went through a security background check. Despite the extra security requirement, finding manpower was nearly effortless.
Volunteers came not only from Guts Church, but from other churches that heard about the cause and expressed interest. Area burger and pizza restaurants supplied free food, and local advertising referenced the background checks, letting families know that security was a priority.
Letting the participants be as personally involved as their abilities allow was essential. "It's important the kids feel independent while they do the activities," Fowler says, "that it's not their parents trying to do it for them."
To foster independence, the church assigned each family a volunteer host who encouraged the participant to do as much, or as little, as they felt comfortable. It opened doors for hands-on ministry through personal conversation.
"Our goal at Easter is that we interact with every single guest," Tyler says. "Our belief is that people want to be known and be needed. We get to hear their story, and they get to tell it."
Guts Church's lead pastor, Bill Scheer, says the personal connections formed at the party were as much a blessing for the volunteers and ministers as they were for the guests.
"Being part of an outreach so impacting with such an incredible group of people is what everyone in ministry wants," Scheer says. "The love these kids give far outweighs anything we could ever do for them."
"This was an eye-opening event," Fowler adds. "Such a great number of people came, and all we did was open the door."
How To: Minister to Kids With Special Needs
• Connect with people in the church who have family members with special needs. Pick their brains for ideas on how to proceed.
• Contact local schools and talk to teachers and helpers working with kids with special needs. Nearly every community in America should have an expert.
• Get the word out to the congregation and in the community to easily find volunteers. Start early to secure background checks, and let people know all volunteers have been checked out.
• Contact area businesses like restaurants, zoos, games providers and popcorn vendors for help.
• Assign an individual host to each family that participates in the event. Hosts stay by their side throughout the event and help however needed.
• Connect with the families and the individuals. "What a lot of people don't realize is the hardships families go through as they try to best take care of their loved one with special needs," says Bryan Tyler, the events director at Guts Church.
Find more Easter outreach ideas »
Find more spring outreach ideas »