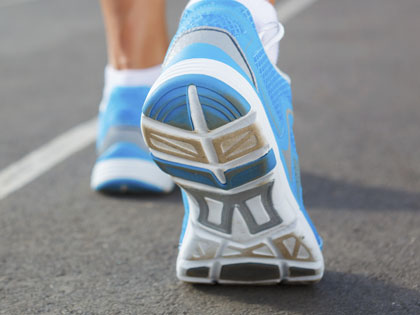 Church connects faith and fitness through sports ministry.
Sergio Robles, 41, a deacon at Concord Church of Dallas, plans to participate again this spring in the church's Sole Patrol. For the fourth year in a row, Concord Church will offer congregants and community members a little help getting in shape. Sole Patrol welcomes walkers, joggers and runners, whether beginners to professionals.
For Robles, participating in Sole Patrol last year was a way to extend the work he was already doing to improve his health and lose weight after being diagnosed with diabetes. He says it was also about living out the biblical command to take care of his body, which is God's temple.
Over eight weeks, participants receive training while preparing for "graduation": a church-sponsored 5K just for Sole Patrol participants.
Sole Patrol meetings are not only about running, though. They begin and end with prayer and include a devotional.
Robles says he normally chose to forego listening to music while running. "For me in particular, it was a quiet time that I would focus on what was important for me as far as spiritual growth and physical goals," he explains.
As Jeremy Williams, associate pastor of small groups, notes, Sole Patrol and other groups within the church's sports and fitness ministry can help make their large church, which has an average weekend worship attendance of between 7,000 and 8,000, feel smaller. Plus, such groups can attract people who do not find traditional small groups to be a good fit. Called F4—for faith, fitness, fun and fellowship—the sports and fitness ministry (which also includes things like softball, basketball and Zumba) focuses on sportsmanship, prayer, relationships, outreach and health.
"When it's done in the right way, we believe competition is a tool for helping people grow in Christ and with each other," says Williams. "All [the Sole Patrol participants] set out in individual goals and with individual purposes, but it culminates in a team goal at the 5K," he explains. "It really becomes a team and/or family affair."
Williams says year on year participation in Sole Patrol has grown, possibly even doubling. Approximately 60 people were part of the 2013 Sole Patrol season.