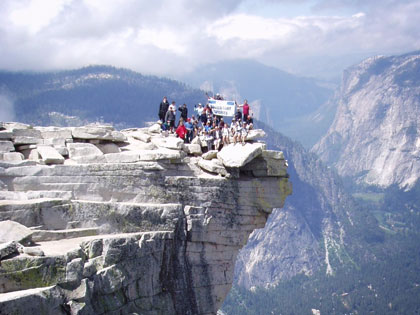 Connect with people who love outdoor sports like rock climbing, white-water rafting, snowboarding and more.
Bayside Church in Granite Bay, Calif., started Bayside Adventure Sports 14 years ago to reach those who participate in dirt biking, mountain biking, rock climbing, kayaking, skiing and similar outdoor sports.
Bayside Adventure Sports grew into a separate, nonprofit organization that continues to reach thousands of people like Shawn Holiday.
In May 2005, after visiting a Sunday service with nearly 10,000 other weekend attendees at Bayside Church, Holiday stumbled over a sign in the courtyard. The sign was promoting a trip to Yosemite for a Half Dome hike on Father's Day weekend through the church's Bayside Adventure Sports ministry. Holiday's family went, and by the end of the trip, his preconceived notions of judgmental, preachy Christians had been shattered.
Instead, seeing fun, helpful Christians in action led Holiday to accept Christ after the trip. He and his wife accepted ministry roles at Bayside Church, and Holiday has since launched a growing nonprofit ministry, Cycles 4 Hope, that focuses on providing recycled bicycles to the homeless in the Sacramento, Calif., area.
"Bayside Adventure Sports was the lure that hooked and reeled me in to Christ and the glue that has kept me here," he says.
Today, Bayside Adventure Sports offers more than 200 events per year for skill levels ranging from beginner to advanced in more than 12 sports.
A version of this article originally appeared in the May/June 2010 issue of Outreach magazine.