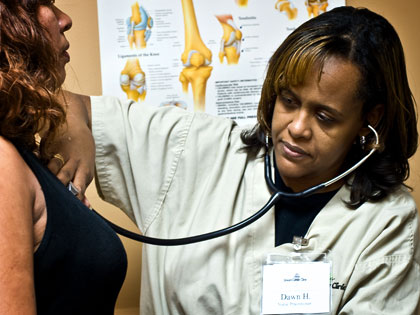 Show Christ's love through low- or no-cost health care services.
Churches are finding that providing affordable health care is an effective way to meet needs and show Christ to their communities.
Church of the Highlands in Birmingham, Ala., bought a boarded up fire station and a building from the county health department in 2008 to create a health clinic—which provides primary care and dental, counseling and pharmacy services—and a community center the church calls the Dream Center. Like other Dream Centers across the country, the Church of the Highlands Dream Center in Birmingham's inner-city seeks to provide social services and outreach programs to meet the physical and spiritual needs of the residents there.
The church created Christ Health Center, a nonprofit entity, to operate the clinic, which uses a sliding-scale fee schedule for uninsured patients.
"We're earning the right to be heard," says Dr. Robert Record, the director of Christ Health Center and the Dream Center. "None of [the staff] are charismatic personalities; we're just learning to love and reveal the character of Christ."
That love has translated into hundreds of church volunteers coming in small groups to take on tasks like driving patients to and from appointments and handling clinic administration. Several health professionals are donating their time too, and the church estimates the clinic can serve more than 30,000 patients a year.
About 450 miles away, Seacoast Church's North Charleston, S.C., campus opened its own health clinic in January 2009, becoming one of several churches nationwide that have embraced health care as part of their community outreach. Seacoast's clinic is open for business two days each week, but more than 500 patient visits occur each month.
Seacoast's Dream Center Clinic provides free health care and dental and vision services to patients whose income is below 200 percent of the federal poverty threshold, which is an annual income of roughly $22,000 for a family of four.
"We started by having small groups adopt-a-block," says Campus Pastor Sam Lesky. "We started where we were gifted—we knew how to plant churches and we had certain gifts in our congregation."
Seacoast soon found that several doctors and nurses in its congregation were willing to donate time.
"They seem to enjoy using their gifts," Lesky explains. "They see that they are being the church in motion."
Seacoast's clinic operates entirely on donations. "When people see what we're doing, they want to get involved—with their time and their money," Lesky says.
And patients find that they are treated differently than at other clinics they've experienced.
"The thing I like about the Dream Center Clinic is that they treat you so good," says Kathryn Giles a Dream Center Clinic patient. "They treat you like they would treat their best friend."