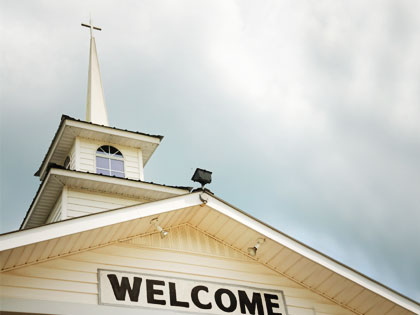 Lead Pastor Jim Burgen shares how to get people to relax and stay to figure out their relationship with God
The Church: Flatirons Community Church, Lafayette, Colo.
The Challenge: Getting people in one of the country's most secular, unchurched areas to know Jesus and feel at home in church
One Key Idea: A tattoo mural, Led Zeppelin and a "me too" motto
Outreach spoke to Lead Pastor Jim Burgen, who says people relax when they realize their brokenness doesn't disqualify them from being embraced by the church.
You're located in Boulder County, which was just named one of the most non-religious counties in the nation. How are you getting people to stick around?
We really try to disarm people. Not by backing off the Gospel. What we've found is that the harder we lean into the Gospel, and what God says is true, the faster we grow.
You grew out of your old facility and moved into a remodeled Wal-Mart a year and a half ago.
Yes, our building looks like Home Depot and REI had a baby. We left all the metal and concrete exposed. We have big garage doors, cracks in the concrete; the walls are scuffed up. You can't do anything to spill on or ruin it. And when people walk in, everything is geared toward getting them to unclench their fists, because so many people are coming in going "I'm gonna hate this" or "I'm here because I lost a bet" or "She won't date me unless I come with her."
What are some specific ways you get people to unclench their fists?
On the wall, we have this huge mural made up of all the tattoos of people at our church. We did a series several years ago called Flatirons Ink. In Colorado, tattoos aren't just decorations, they tell your story. We tied that in with how different things mark up our lives and scar us. Then we took pictures and made this mural. A lot of people think you have to cover up your tattoos for church. We say, "Tell your story." And you see a little sigh of relief as people realize, "Okay, that's not going to disqualify me."
We also use secular music. We actually had a guy who came here because he told his wife, "If you can find a church that plays Zeppelin or Marilyn Manson, I'll go to that church." Well, we did and they came and they've been involved for the past five years. And nobody's going to stick around for the music, but the music is what gets people to take a breath, unclench their fists and sit back.
The other part — we're very intentional to say, "Listen, you don't have to believe all this today." Instead, we say, "Are you looking for truth? Are you open to the idea that truth could be different than what you thought it was? If so, keep on coming. And if anything needs to change, that's between you and God. I just promise that this is a safe place for you to figure that out."
Can you give an example of someone finding safety at Flatirons?
The guy who fills up our baptism pools…he's been filling them for six years, and he's never been baptized. He came for his daughter and wife's baptism, and he wants it, too. He's just got a lot of baggage. But he's allowed to be here. Andy Stanley put some great language to it: "You can belong before you believe." And that's really true at Flatirons.
How does your motto foster this sense of belonging?
Our motto is "me too" — if your life doesn't line up with everything Jesus said, well, okay, me too. And this started when a gay man named Richard came to Flatirons after being rejected by church after church after church. And I remember bringing Richard up on stage, and him sharing his story. And I said, "I sure do love Richard, and I'm glad he's here." And a bunch of people stood up and said, "Me too." People were applauding, and we jumped 15 percent in attendance after that.
MORE ABOUT FLATIRONS COMMUNITY CHURCH
Launched: 1983
Weekend Attendance: 15,495
A 2013 Outreach 100 Church: No. 49 Fastest-Growing and No. 23 Largest
Key Connection Points: 2,200 people have been attending for six weeks or less
This article originally appeared in the September/October 2013 issue of Outreach magazine.