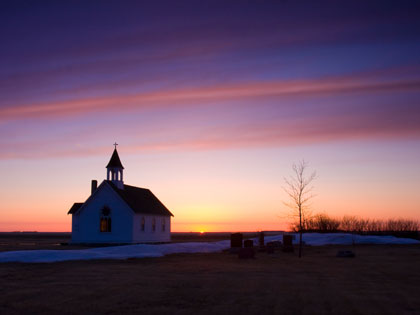 Providing a middle ground to small groups helps new people connect.
Convincing newcomers to join a weekly small group of 10 to 15 people can often be a feat. Recognizing that fact, Good Shepherd Community Church in Gresham, Ore., created what Dan Franklin, formerly the church's pastor of scriptural enrichment, calls a "middle ground" for people who attend the large worship service but aren't yet ready to commit to a small group or in some cases, aren't able to come due to childcare issues, job schedules, etc.
More than 20 years ago, the church introduced minichurches—gatherings of 50 to 200 adults that meet during the first worship service, then attend the second service. Each of Good Shepherd's four minichurches tends to be based on a season of life and emphasizes prayer, teaching and fellowship.
"We wanted to create a sense of belonging for people who weren't yet involved in a small group or weren't able to commit to a weekly group," Franklin explains. "Minichurches help us create a sense of belonging on the weekends."
He offers five tips for bringing people deeper into the life of the church via minichurches:
1. Focus on leadership. At Good Shepherd, lay leaders known as "lead shepherds" take responsibility for each gathering and enlist volunteers to greet, track attendance and send out prayer requests. "You need a team of people who feel a sense of ownership for their minichurch," Franklin says.
2. Get the word out. Ensure that people know about minichurch offerings and their purpose. Highlight them in your bulletin and newsletters. Franklin plans to promote minichurches at the end of Good Shepherd's new member Discovery Class.
3. Develop a calendar. Plan minichurches like you would a church service. Who's speaking? What is the subject matter? At Good Shepherd, elders and other leaders in the church often teach at minichurches, giving attendees opportunities to meet and get to know them.
4. Foster relationships. Look for ways to facilitate fellowship, especially with new attendees. Break into smaller groups to share prayer requests and updates.
5. Serve together. Encourage minichurches to adopt a community ministry and participate in regular service projects outside the weekend gathering.
Why I Stayed …
"Our family began attending a minichurch at Good Shepherd Community Church when we first started there five years ago. We were new to the area and were looking for a way to get to know people. My husband, Gary, and I weren't accustomed to attending a large church like GSCC, but we found that our minichurch, now called the Family Connections gathering, allowed us to meet and build relationships with other families like ours, as well as get good teaching on marriage and parenting. When we first got involved with minichurch, elders and pastoral staff were guest speakers, teaching on a specific topic related to our season of life, which we learned from and appreciated.
Now, we're members at GSCC and regularly attend minichurch. The main service is where we commune with God and learn right doctrine; minichurch is where we grow and find fellowship. Being able to worship and find community on Sunday mornings has been essential to us as a family with a complicated schedule. Three young children and my husband's erratic work schedule have made joining a weekly community group extremely difficult. It's expensive to hire a sitter each week, and most weeks, I'd be attending by myself. Sunday mornings are the only practical time for everyone in our family.
For us, minichurch is our community. We pray with and for one another outside of the meeting times, plan social activities together and have care ministries for situations like a new baby, prolonged illness or job changes. Gary even meets regularly at 6 a.m. with a group of men he met at minichurch for Bible study. Minichurch is the main reason why we've grown deeper in our faith, our relationships and our church." –Tonya Walmer