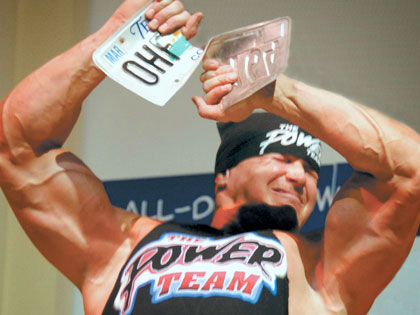 Feats of strength help draw young people to hear the Gospel.
Consider working with a ministry like The Power Team to reach youth in your community with the Gospel.
The Chapel, An Evangelical Free Church in St. Joseph, Mich., partnered with The Power Team in 2009 for an evangelistic crusade. A Dallas-based ministry, The Power Team uses feats of strength to share the Gospel.
Corey Fister, 16 at the time, and his family used to attend church only once a year—on Christmas Eve—and it was far from a spiritual experience, as Fister would think, Let's get this over with.
Fister's views about faith and church changed in 2009 thanks to The Chapel's evangelistic outreach with The Power Team.
Working with churches, the team visits public schools across the country—where members talk about abstinence, tobacco abuse and not succumbing to peer pressure—during the day and conducts evangelistic crusades with overtly Christian messages at the churches at night. Youth pastors often help coordinate the team's visits.
Fister saw The Power Team at his high school and then went to see them at The Chapel, where he developed a serious interest in Jesus for the first time and accepted Christ as his Savior.
"They said that He's the only one who's going to be with you 100 percent," Fister says of The Power Team's message. "I understand Christ more now. I've looked in the Bible for more than a night. I look at the Bible every Sunday."
More than 5,400 people attended the February 2009 crusade at The Chapel. Of those, 264—including 235 who were younger than 18—received Christ or made other spiritual decisions, Senior Pastor Phil Bubar says.
"We've seen a good bump in attendance after it," he says. "We've seen people who've been faithfully coming ever since."
Blair Hayward, an associate pastor at the church at the time, says The Power Team kept the focus where it belongs.
"Every single night, they always pointed to Jesus," he says. "They were big, strong guys pointing to Christ. It wasn't about them."