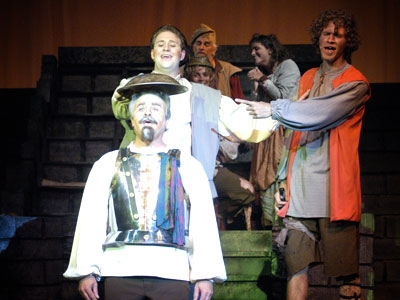 Springhouse Worship and Arts Center reaches actors and audiences.
Theater patrons in Smyrna, Tenn., have been known to take in high-quality productions of The Sound of Music, Pride and Prejudice, and Don Quixote in an atypical setting—a church auditorium that also functions as a professional theater multiple times each year.
Pastor Ronnie Meek of Springhouse Worship and Arts Center serves as executive producer of the Lamplighter's Theatre Company, a ministry of the church.
"We believe that the church has a commission to reveal God's beauty and truth to the world and to impact the various cultures for the advancement of the kingdom of God," Meek says. "The arts are among the most powerful tools available for both of these purposes."
Today, more than 100 local actors audition for one of the theater company's major musicals. Tickets sell out fast, which shows drawing audiences up to 300—of which half are unchurched. Lamplighter's advertises through newspapers, the local Chick-fil-A and playbill swaps with other local theater companies.
Though staff hand out cards as patrons exit, inviting them to visit the church on Sunday, they don't force the issue.
"That could be rightly viewed as disingenuous," Meek says. "Rather, we try to see to it that they have a wonderful and edifying, or at least thought-provoking, time and that those who do not attend church will be intrigued and perhaps attracted enough to come see what we are about on Sunday morning."
Many do come back, Meek says.