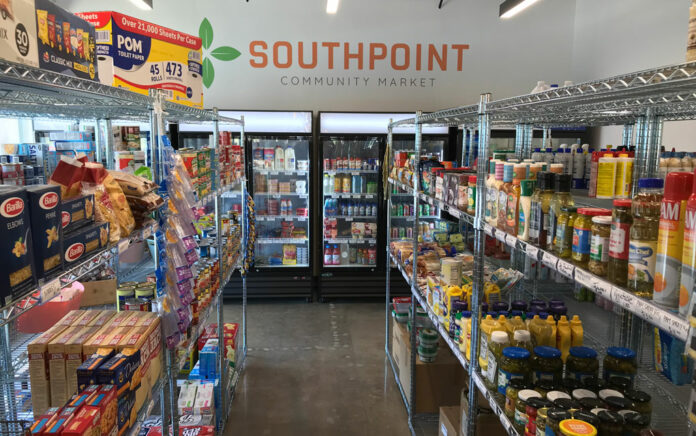 Cornerstone Baptist helps meet its community's basic needs.
At Cornerstone Baptist Church in Dallas, a whopping 70% of the congregants come from a ZIP code where the median annual household income is approximately $20,000. Residents include single mothers as well as grandmothers who are raising multiple sets of grandchildren. Cornerstone Church wanted to minister to the area in a practical way.
"It's incumbent upon ministries and organizations to really hear the voices of the people," says Pastor Chris Simmons. "Oftentimes residents feel as if others come in with their own agendas. Meanwhile, the community's major concerns never get addressed."
Simmons' team asked community members what they wanted, and the answer was simple: clean clothes and fresh, affordable food.
The church partnered with JPMorgan Chase & Co., which provided a $400,000 grant that enabled the church to purchase an old shopping strip mall. First they opened Cornerstone Community Laundromat, followed by Southpoint Community Market, an 800-square-foot nonprofit grocery store that sells affordable produce, dairy products and essential items.
Congregants who staff the market purchase produce at the best prices from suppliers, then sell it to the public with a minimal markup. Simmons hopes the market will address food insecurities in the neighborhood as well as create jobs.
Cornerstone plans to cover costs for the grocery store until it becomes sustainable and continue to raise funds through grants and partnerships. The Real Estate Council, an organization that works with nonprofits to address real estate needs, donated $350,000 for the grocery store. Now it is working with Cornerstone Church, in partnership with the city of Dallas, to provide a $550,000 gift so that the church can install two commercial kitchens.
"We discovered that we're working with local food entrepreneurs in the neighborhood, the majority of whom don't have access to commercial kitchens," says Simmons. "So, we plan to attach a 1,500-square-foot for-profit community kitchen onto the grocery store to be a shared space for these entrepreneurs.
"Our main purpose of this ministry is connecting to our community," he adds. "It's a way of building a bridge to reach our neighbors for Christ."