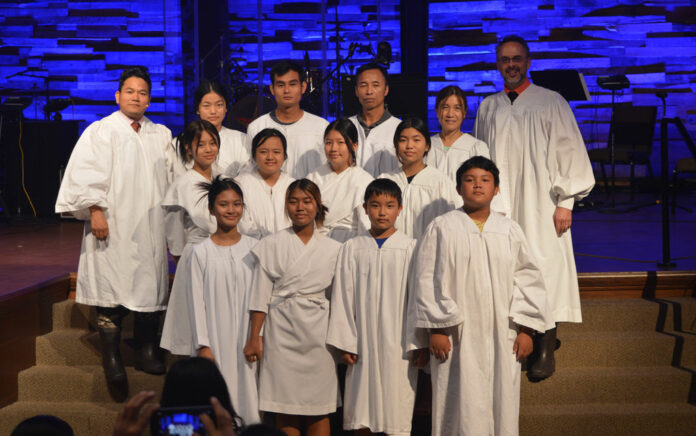 Kentucky church ministers to immigrant populations.
The tagline for Bellevue Baptist Church in Owensboro, Kentucky, is "a church for the community." And Bellevue reflects its growing multiethnic community by offering Hispanic, Burmese and Congolese worship services.
Senior Pastor Greg Faulls says his congregation's desire to deliver the gospel to the local international community began after church members went on several overseas mission trips in the 1990s.
"They realized that they could build relationships without knowing the language," Faulls states.
The congregants demonstrated that confidence in 2002 when several collaborated to assist Latino migrants living nearby.
"They asked, 'Can we go knock on doors and see if they have any needs?' and they did just that," Faulls says.
Soon after, the church launched a Spanish-language Bible study and, in 2003, hired Jesus Amaya to lead worship services in Spanish in the summers. Fifty migrants attended the first day. Two years later, Amaya became the full-time pastor of the church's newly minted Spanish-language Sunday service.
Owensboro continued to see an influx of immigrants. Refugees fleeing persecution in Myanmar, formally known as Burma, resettled in the area. The majority, identified as Christians, Faulls discovered. So the church hired a pastor who spoke the Burmese language, and that congregation quickly grew to nearly 150 people. But Bellevue Baptist wasn't done. Today the church also holds services for 30 congregants from the Democratic Republic of the Congo.
"We give the pastors a lot of autonomy because we want to respect cultural differences as long as they don't violate doctrine or our ability to cooperate together," says Faulls.
He compares a church finding purpose to overlapping circles representing the Great Commission: a church's experiences, proclivities, talents and human resources; and a community's needs.
"Where the circles overlap," notes Faulls, "is the sweet spot of God's will for your unique congregation."