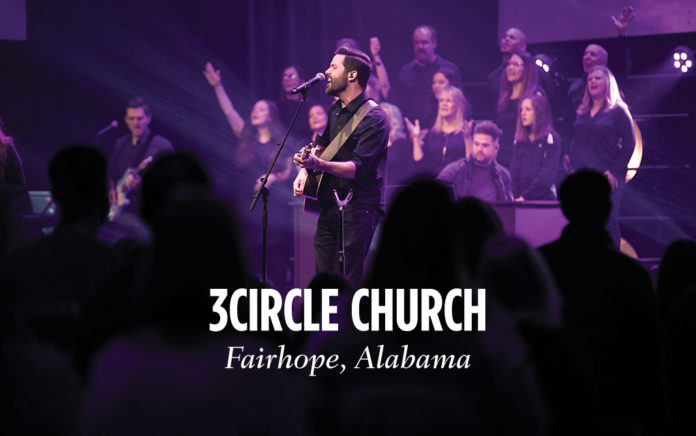 Alabama congregation is mission driven.
Once a week, Tess Center, a stay-at-home mother of three, puts her dental-assistant skills to use at the Hope Center. A ministry under the direction of 3Circle Church in Fairhope, Alabama, the Hope Center offers low-cost medical and dental care and counseling to underserved communities.
"One of the things that's said a lot at 3Circle is that we're supposed to love God and love others," says Center. "And one of the ways we do both of those is by serving."
Center says she and her family joined 3Circle Church after moving to Alabama in 2010. They visited several other area churches, but she found 3Circle's come-as-you-are atmosphere to be the most attractive.
"The way the pastor taught, you got the feeling that no one expected the church to be perfect or people to be perfect," she says. "I wasn't raised in church, so that appealed to me."
Chris Bell, lead pastor since 2012, says the 20-year-old congregation strives to fulfill its mission based on Acts 1:8, to lead others to Christ locally, regionally and globally. He oversees the congregation's five locations, including campuses in Fairhope, Daphne, Thomasville and midtown Mobile as well as a prison ministry.
Each campus, he says, is unique in its own way.
"We're not a franchise-type church," he says. "We're not McDonald's where every one of our locations looks the same and feels the same."
Instead, Bell says, they want the local circle to inform and even shape the way ministry is done in each context.
The fast-growing congregation's Fairhope campus, for example, is in an affluent bedroom community, while the Mobile campus is in a racially diverse, multiclass, urban community. Conversely, the Thomasville campus is in rural Thomasville, two hours north of Fairhope.
"I really attribute our growth to the preaching of the Word of God," says Bell. "We're a teaching church. We're a gospel church."
Center says the church's focus on Bible teaching won over her and her family.
"The teaching is Bible-based," she says. "And although we may not have a traditional altar call all the time, there are definitely opportunities to let the Lord search you and see if you're obeying what his Word says."
Bell also attributes 3Circle's growth to its missions work. "We're committed to not just going across the globe, but also across our streets and neighborhoods. If you're at 3Circle for very long, you're going to be challenged to get out of that seat and be the hands and feet of Jesus."
With more than 6,000 patients, the Hope Center gets help from volunteer physicians, dentists, counselors and others. Furthermore, Bell says the center launched one of the first COVID-19 test sites on the Gulf Coast.
Center says working at the Hope Center is an easy way to get connected and serve. In addition to volunteering once a week in the dental clinic, she also schedules client appointments and performs other tasks from her home for the volunteer counselors.
"Praying with patients who are scared, trusting God with my relationship with other volunteers and seeing God work in their lives has made me trust him more," she says.
In addition to the Hope Center, 3Circle emphasizes discipleship, Bell says. The church has ministries targeting children as young as two through high school, including those with special needs. The church's small group program is popular, with nearly 70% of the congregation participating.
Center and her husband, Rick, host a small group in their home on Sunday afternoons.
"They became our family," she says of her group. "A small group is a community where you pray for each other and meet each other's needs on a different level than you can in a church our size."
But this spring, because of the COVID-19 pandemic, the Centers arranged for the group meet on Zoom instead of in person.
Recent national events like that, says Bell, show that easy answers don't exist. "But," he says, "I've learned that difficult situations are really just great opportunities in any of our lifetimes for the kingdom of God and the gospel and for great leadership."
—Gail Allyn Short
Read More Church Profiles Here »
3CIRCLE CHURCH
Fairhope, Alabama
Senior Pastor: Chris Bell
Twitter: @3CircleChurch
Website: 3CircleChurch.com
Founded: 2000
Affiliation: Southern Baptist
Locations: 4
Attendance: 3,439
Growth: +304 (10%)
Fastest-Growing: 75
Largest: 97