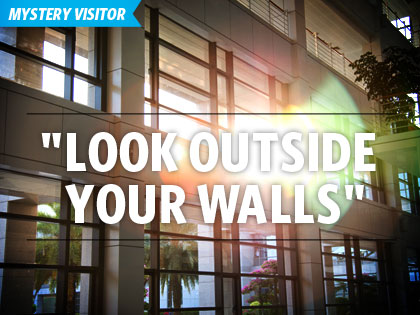 An unchurched person reports on an unannounced visit to a local church. Could it be yours?
A 40-something male visits a 150-attendee church in Fresno, Calif., on June 23, 2013 at 10:30 a.m.
OVERALL SCORE
* * *
What was it like when you entered the building?
Some folks welcomed me when I first arrived in the foyer. A few steps into the worship area the bulletin folks greeted me and then the pastor. He asked if we were new in town and how we came to attend that morning. He asked the names of my children and thanked us for coming. Another person invited us to the fellowship hall after the service where they served coffee and punch.
* * * * *
Was it obvious where the children's ministry was located and that it was clean, secure and well-staffed?
There were no children in the service. And I saw nothing for kids—no youth room, children's area or nursery. Neither the website nor bulletin mentioned ministry to children or youth. This is enough to keep me from seriously considering this church for my family.
*
Did you observe anything that would lead you to believe that the church values diversity?
The congregation was made up primarily of older white people who seemed to be retired professionals. It was odd, considering the church's location. The community is racially mixed and economically less fortunate. I assumed they were long-time members who once lived in the area or joined around the same time, 15 or 20 years ago.
*
Describe the service.
The music was very traditional. The choir had 15 people, with a director and organist. The congregation engaged in the worship and sang along. The message was 12 minutes long, taken directly from the Bible. The pastor included some humor and real life examples. He could have been more specific about how to have faith in God. The pastor was well-prepared and comfortable. He did not have any visual aids, nor even a bulletin insert with the outline. He didn't really need it. The message was simple and straightforward.
* * * * *
Overall, how friendly would you say the church was to you during your visit?
They were appropriately friendly—not pushy or desperate, but kind and genuinely welcoming.
* * * * *
Would you return to the church?
I would not likely return. I expected there would be something more to offer my children. The church needs to look outside its walls to become more reflective of the community. The neighborhood has a large group of those in need. I worried about my car getting broken into while I was inside the church.
*
*Adapted from a report provided by Faith Perceptions, which has evaluated more than 2,500 worship services across the United States. Visit FaithPerceptions.com.
Check out more Mystery Visitor reports »