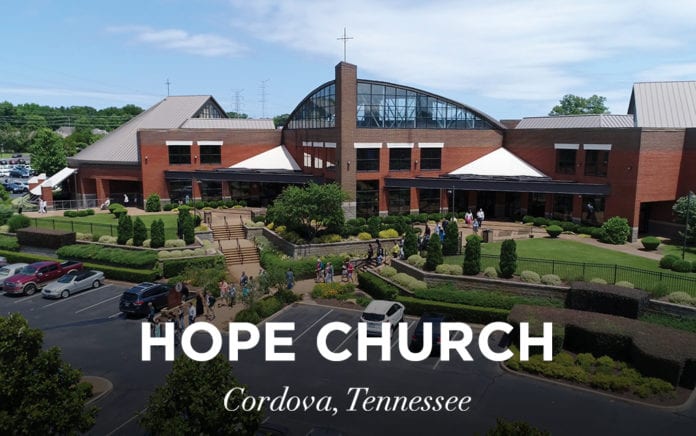 Tennessee Church Strives to Make Visitors to Feel Wanted and Welcomed
"We're a very welcoming environment."
That's how Senior Pastor Rufus Smith describes Hope Church, located in Cordova, Tennessee, just 20 miles from the heart of Memphis. "We try to go above and beyond in making people feel wanted, not just welcomed."
Hope Church began in 1988 under the leadership of Richard Craig Strickland, who was from Memphis and went to school in California. He came back with a vision and a desire "to create a new kind of church as was happening on the West Coast," Smith explains. "It didn't exist in the South." The new model would do away with organs and instead have a praise band, casual dress and a relaxed atmosphere. The model took hold and Hope Church grew.
About 10 years ago Strickland and the church staff realized that Hope didn't reflect the neighborhood and it was, again, time for something new. They wanted the church to become multiethnic, as the Cordova community had become. They brought in Smith and made a gradual transition in the senior leadership.
In the nine years since he arrived, Smith reports, "We have become a truly multiethnic church." That intentional move initially caused a drop in church membership, but "over a 21-month period, from out of that decline, we started seeing an increase and it hasn't stopped."
Hope is more than just the church's name. The congregation has worked hard to make it the identity of the church.
"The name is very definitely indicative of what the community sees that we're all about," Smith says.
The church has a number of outreach ministries including recovery, urban outreach and athletic ministries. "We praise God for that kind of reputation," Smith says. "The church has been a beacon of hope for so many."
Another recent emphasis has been an outreach to families that have children with disabilities. The staff realized that this group was among the most unchurched in America and also faced a high divorce rate. "They fit our target," says Smith.
The church added staff and created programs to help their church develop a heart for these families. The results have been encouraging.
Carolynn Brown's son, Parker, has an Autism Spectrum Disorder known as PDD-NOS. When the family of five relocated to Memphis, they heard about Hope's programs and quickly got involved. Hope has become like an extension of their family, the programs and the people being a tremendous encouragement to them. Brown says that she has developed a great understanding of God's mission though Hope.
"God did not equip us with all of the tools that we needed to do this ourselves," she says, "but he did put people in place who would come alongside us."
The church's goal was and remains to be a place that reaches the lost and the hurting. Their desire is to bring hope to the unchurched and the de-churched. "When we look out now at our congregation, we can truly say that we're in awe of God," says Smith. He looks forward to the future and the next steps. "As opposed to being a multiethnic worshipping community on the weekend only, we are becoming a multiethnic community during the weekday as well."
—Jeff Chaves
HOPE CHURCH
Cordova, Tennessee
Lead Pastor: Rufus Smith
Website: HopeChurchMemphis.com
Founded: 1988
Affiliation: Presbyterian – Evangelical
Locations: 1
A 2019 OUTREACH 100 CHURCH
Attendance: 6,815
Growth: +412 (6%)
Fastest-Growing: 100
Largest: 65