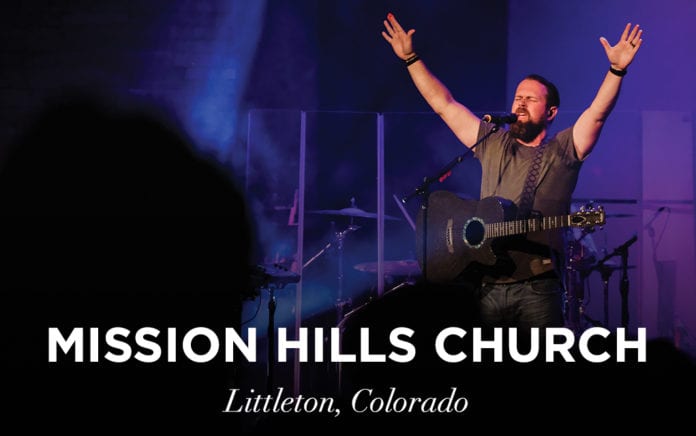 Mission Hills Church Builds on Strong Legacy of Service
"We have not had a weekend in the last year when we have not had multiple people say yes to Jesus," says Lead Pastor Craig Smith of Mission Hills Church. The Littleton, Colorado, church—located about 30 minutes south of downtown Denver—has three service sites plus an outreach center.
Smith has been the lead pastor for just under three years and is quick not to take credit for the Mission Hills' growth, crediting the church's 77-year legacy and its previous leaders. "I just have the blessing of being able to build on that. There's been strong momentum in this church for quite a while."
He says the church has reinvented itself over the years with several location changes, but one core value has remained: "We are a forward-thinking, outreach-focused church."
When the shooting at STEM School Highlands Ranch occurred on May 7, 2019, the church and its leadership acted quickly. They opened their doors to the community for prayer and counseling even as events were unfolding. The next day, the church opened for students who needed somewhere to go.
"A lot of them were just desperate for options to be together as a community, but not quite sure where they could do that safely. We were able to provide that safe place," says Smith. Approximately 300 students and 200 parents came in throughout the day. Students were fed, played games and were given the opportunity to talk. That evening the church put together a short impromptu service at which, Smith says, a lot of people accepted Christ.
Drawing people to Jesus is exactly what the church leadership stresses. "We believe that God has called us to reach people up and down the Front Range of Colorado," says Smith. "Our way of doing that is to unleash an army of missional followers of Jesus—people see themselves as being on mission."
In fact, the church staff is convinced that to be a follower of Jesus means to be on a mission of some kind. "Mission Hills exists to support people on their mission, so inviting people to come back to services with them or explore faith with them at the Hills, has become a natural thing. I think a lot of our growth has come from that."
That growth is reflected in the number of people who are coming to faith in one of the seven services each weekend, including 13-year-old student Kate Lobis, who was recently baptized. "Mission Hills is where my faith grew and thrived," she says. "It is where I found Jesus and accepted him as my Savior."
Smith is certain that the church's growth is far from over, and he has learned the importance of planning for the future. "When we plan for what God has said he will do— when we take him at his Word, and respond accordingly—then I think he blesses that."
Mission Hills is looking for both more multisite opportunities and other churches that have a similar vision to partner with to engage people whom Mission Hills isn't in a position to reach.
"Dream big, act small and act with the next steps in mind," Smith says his mentor taught him. "But make sure those steps are moving you toward that next thing God is calling you to."
—Jeff Chaves
MISSION HILLS CHURCH
Littleton, Colorado
Lead Pastor: Craig Smith
Twitter: @MissionHillsCO
Website: MissionHills.org
Founded: 1953
Affiliation: Baptist – Converge Worldwide
Locations: 3
A 2019 OUTREACH 100 CHURCH
Attendance: 4,109
Growth: +359 (10%)
Fastest-Growing: 85