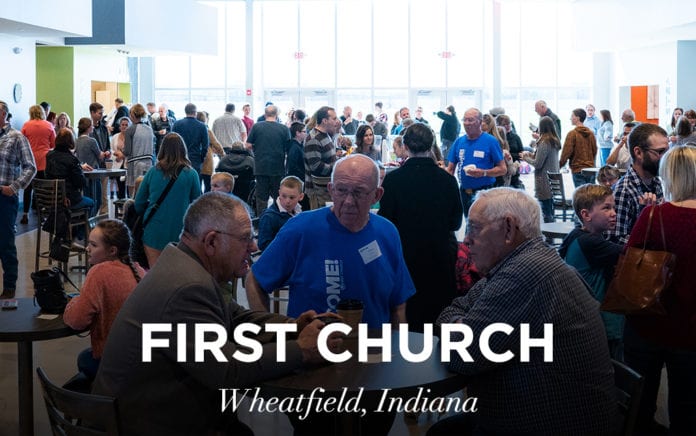 Indiana Church Traces Growth to Sharing Jesus
When John Hill became senior pastor of First Church in 2014, the Wheatfield, Indiana, church was struggling. Its membership was at 190 people and declining. On one Sunday in particular, there were only eight kids in the children's ministry mostly belonging to Hill and his wife, and the worship pastor and his.
"There had been a lot of emphasis on reciting the Ten Commandments, on learning about John Calvin and memorizing the questions in the Heidelberg Catechism," Hill says. For 12 years, visionary Jesus-loving leaders within the church had worked through painful transitions prior to Hill arriving. They were trying to work through these problems and refocus on gospel proclamation. It was a tough road.
Because of that foundation, Hill started presenting the gospel regularly and actually led several people on the elder board—people who had been in the church for decades—to Christ. But Hill knew the church would still die if the worship and preaching style didn't change to reflect the preferences of the larger community. So he had a heart-to-heart with the congregation.
"We started talking about the sacrifice previous generations had made," he says. "We said, 'Your grandparents gave up their language, which was Dutch, so that you could hear the gospel in English. You can't say you're unwilling to give up your personal comfort and your hymn preference so that your grandkids can't hear the gospel in a language they would understand.' And they got that."
So the church fully committed to a contemporary worship style, a casual atmosphere, and eventually a new building while still being very gospel-centered. First Church now has an active social media presence and a thriving youth program. And the church has grown, even surpassing the population of adjacent Wheatfield, its tiny farming community of around 900 people drawing from the larger regional area. Almost all of the growth they've seen, Hill says, has come from unchurched people. That's because the biggest catalyst for the growth has been the empowerment of church members to lead others to Christ.
"The biggest reason for our growth is the owners (what we call members) of our church sharing their faith in one-on-one settings," Hill says. "We have worked really hard to equip our church with the skills to share the gospel. The vast majority of our salvations have happened in that setting."
As the original congregation has remained, thanks to their extraordinary faithfulness, sacrifice and generosity, lots of younger people have joined, the church is now generationally diverse. But with everyone realizing the same goal, First Church has become unified in its mission.
"We're committed to being a church that's about becoming fully devoted followers of Jesus Christ, and that means being able to make disciples in your own life," he says.
To empower people to share the gospel, Hill and his wife recommend Linda Evans Shepherd and William Fay's book Share Jesus Without Fear. They also train church members to disciple new people using the book's techniques.
"It's pretty cool to see someone who's been in church their whole life leading someone to Christ personally, when they've never done that," he says. "We have so many people who are pastors in their own right, shepherding their families and communities."
Toni Clements, who began attending First Church with her husband about a year ago, recently began serving as a "connector" for new attendees in the church's Next Step class. And although Clements has attended other churches before, she says this is the first time she and her husband ever led anyone to Christ or discipled new believers.
"This is the first church that we've been to that I feel that has really emphasized spreading the gospel and reaching out to people," she says. "That's part of why I love First Church so much."
And that's why others seem to love it too.
"I really believe our congregation is bound together with love for one another and the community, and we're wrapped around a vision that's written in Scripture and written on our hearts," Hill says. "Most of the people in this church have been led to Christ by a friend, so they're connected to their discipler. It is really amazing to actually see Jesus changing the culture of this entire community through his gospel. We are a small town, and so many more have a relationship with Jesus now. It's pretty amazing."
FIRST CHURCH
Wheatfield, Indiana
Lead Pastor: John J. Hill
Twitter: @JohnJuroHill
Website: First.church
Founded: 1893
Affiliation: Reformed Churches in America
Locations: 1
A 2019 OUTREACH 100 CHURCH
Attendance: 1,258
Growth: +229 (22%)
Fastest-Growing: 70