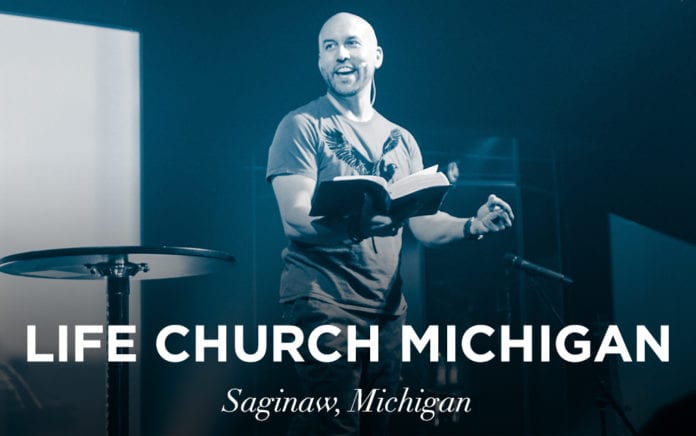 Life Church Michigan Uses Humor to Reach Millennials
Laughter is the best medicine. And according to Life Church Michigan in Saginaw, it's also a great way to reach people with the gospel.
"I just want people to meet God, and I want them to know who Jesus is," says Pastor Jonathan Herron. "If I can lower the force fields and get them to unfold their arms using techniques from comedy, then that's a missionary method we'll use. And it's working for us."
Herron, who planted the church in 2013, is a seminary grad and married dad of five. But long before that, he actually earned a theater degree and studied improv at The Second City in Chicago under then-unknown Tina Fey. God gave him a talent for comedy. So although his path ultimately took him into ministry, he still found a way to incorporate humor.
"God always uses our past experiences for his present purposes," Herron says. "There are only two professions in the world—comedians and pastors—where every week you have a clean sheet of paper and you have to create new material. By the weekend you have to deliver it in front of a live audience by yourself. And so what I learned at The Second City about being fearless, about seizing the spotlight, about captivating people's hearts and minds, completely transfers to ministry.
"We teach our staff, interns and volunteers to think like a comedian and be grounded in the Scriptures. Our staff is regularly schooled in the principles of improv comedy," he explains. "We're also teaching through the Bible cover to cover over the next three years, so nobody can say we're watering it down. There's unapologetic truth, but the grace side is, let's get them laughing. If we can engage our guests on Sundays through laughter, over time we earn permission to speak into their spiritual needs."
Life Church Michigan is located in the Great Lakes Bay region where half the population, according to Herron, is 40 and younger. And that demographic, he says, isn't packing the pews. The old methods for reaching them aren't working.
"As missionaries to our culture, we've adopted a 1 Corinthians 11 strategy of unapologetically preaching a timeless message in timely methods," Herron says. "If we can Netflix our discipleship process, that's a win."
And the church's techniques are working. That same young population that isn't typically showing up to church on Sundays is attending Life Church Michigan.
"Our church is incredibly young," Herron says. "[We have] teenagers, 20-somethings, 30-somethings. And they're not people leaving one church to go to another. These are people who've never been in a church."
Church members Dan and Monica Lynch are the perfect example of that demographic. The young couple was newly married when they began attending Life Church Michigan in 2015. In fact, Monica says, the church may very well have helped them survive those fragile first years of marriage.
"God was not a part of our life at the time [we began attending]," she says.
But they kept returning week after week, deepening their involvement with the church and their understanding of and relationship to Christ.
"The messages are bold and full of humor, and we really enjoyed the style of worship and the unapologetic sermons," she says. "Life Church does whatever it takes to reach people far from God, and everyone is welcome. I believe the younger demographic wants to have a purpose and feel like they belong. The feeling of belonging is what Dan and I felt four years ago and is the reason we've decided to come back every single Sunday."
Laughter may be the best medicine, but Herron says it's also a universal language that creates a sense of acceptance.
"If we can show that we take our faith seriously but we don't take ourselves seriously, it creates common ground, and it's all about building trust. You build trust faster when everyone around the table is laughing."
—Jessica Hanewinckel
LIFE CHURCH MICHIGAN
Saginaw, Michigan
Lead Pastor: Jonathan Herron
Twitter: @HighFiveJon
Website: LifeChurchMichigan.com
Founded: 2013
Affiliation: Nondenominational
Locations: 3
A 2019 OUTREACH 100 CHURCH
Attendance: 1,232
Growth: +574 (87%)
Fastest-Growing: 11