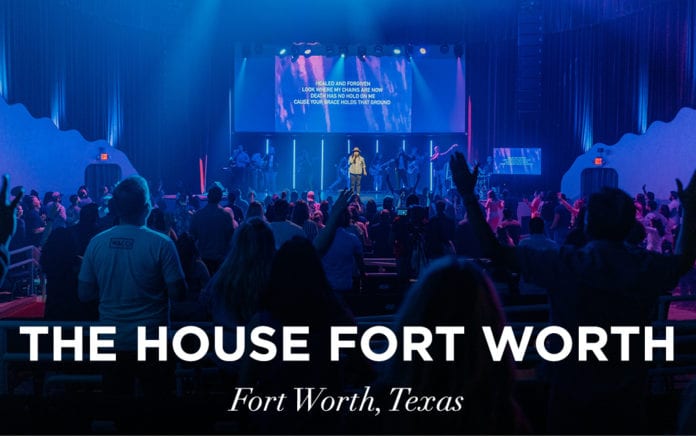 At The House Fort Worth, the Welcome Begins in the Parking Lot
"There's a banner when you walk in that reads 'This Is Home,' and that's how we want people to feel."
That's how Senior Pastor Micah Berteau describes the atmosphere of The House Fort Worth in Texas. "We approach our church like it's a family. We want The House to be a place for people to get healthy and whole."
This family atmosphere starts as soon as people drive up. "We play worship music in the parking lot, and we have volunteers who wave at people as they pull in. They open car doors and help people get their kids to the right place," Berteau explains. "One time, our parking team changed a lady's flat tire while she attended the service. Our volunteers look for ways to serve people and meet their needs."
The parking team is the first point of contact for visitors. "As the pastor, I'm not people's first impression of our church," Berteau says. "It's a collection of volunteers who make that first impression. That's why our volunteers are trained to love on people."
The connection continues as the church's Connect Team greets people in the lobby, and makes sure they know where to go.
Getting new people plugged in is significant at The House. The church's growth track program helps them take the next step with God and with the church. "Growth track is for people who are ready to do more than just attend our church," says Berteau. "They sign up for the two-week program, and when they graduate from it, they enter into a team to serve at church. This helps people grow roots at our church."
Home groups also are an important part of The House's culture. "We want to do life with people, and meeting in smaller groups is an important part of that," says Berteau.
Prayer meetings are held every Wednesday night because, he adds, "this church is built on prayer. We want to be a church that helps people and changes lives."
College students and young families from surrounding universities are The House's biggest demographics. "My wife and I are young, and we tend to attract who we are," says Berteau. "But even the older people in our congregation are young at heart. It's a well-mixed group, and our church looks like the makeup of our diverse city."
The House launched in February 2018, first meeting in an elementary school, which it outgrew quickly. "We moved to a wedding venue, where we grew from one service to four," Berteau says. "We moved to a live music theater with 800 to 1,000 seats in November 2018."
Brendan and Lacey Pretorius had attended another church in Fort Worth for 12 years, but they felt like something was missing. "We felt like our faith was stagnant, so when I saw a Facebook post about The House I really wanted to try it out," Lacey says.
When they pulled into the parking lot, they saw volunteers holding signs that read, "You are Home" and "Welcome to the Family." They went inside and could sense that this was a loving place.
"The House is big on hugs," Brendan says. "There's this contagious love, and we wanted to be a part of it."
They signed up for the church's growth track, then joined an outreach team of volunteers. "We are a congregation that wants to serve this community," Brendan says.
Brendan and Lacey also started a home group that became an important part of their lives. "It started off fun and light," Brendan says, "but it ended up being a tremendous help for building our marriages and offering hope for our struggles."
The couple says the heart of The House is the people. "You come one time and you're family," Lacey says. "It's a great church for both people who are unchurched and for those who grew up in church. There's a place at The House for everyone."
—Diane Short
THE HOUSE FORT WORTH
Fort Worth, Texas
Lead Pastor: Micah Berteau
Twitter: @MicahBerteau
Website: TheHouseFW.com
Founded: 2018
Affiliation: Nondenominational
Locations: 1
A 2019 OUTREACH 100 CHURCH
Attendance: 1,049
Growth: +734 (233%)
Fastest-Growing: 5