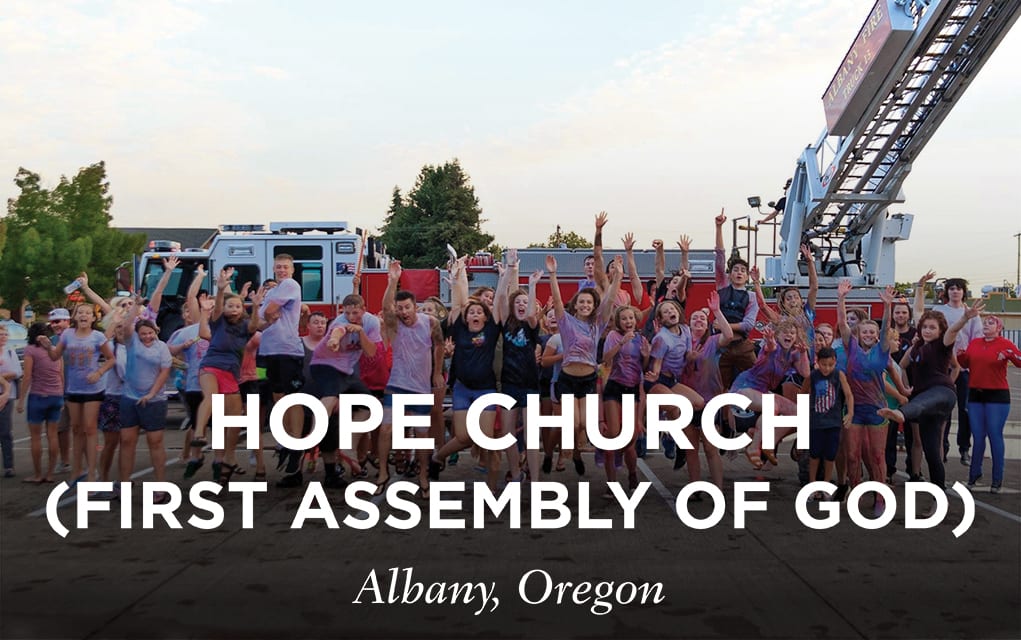 Hope Church Rebrands Itself and Ushers in a New Era of Growth.
A lot of churches would be ecstatic to have 20 people sign up for baptism on Easter Sunday. So, when the pastors at Hope Church in Albany, Oregon, ended up baptizing more than 30 additional people Easter weekend 2016, they were blown away.
It was at a time when the church had just launched its "Hope Initiative," which included plans to rebrand itself after nearly 100 years in the community. They had no idea how the church's name change, building renovations and marketing efforts would go over with the community.
"Pastor Frank Silverii has truly bought into the idea that big, bold moves make the difference. And when you take a historic church and rebrand it with the community, that's risky," says Lead Executive Pastor Mark Robinson.
It's one thing to have big ideas, but it's a whole other thing to get people to follow you. And Robinson says that's been the key to the church's momentum.
"Our lead pastor has been here for about eight years, so he's getting into that sweet spot of ministry where people trust his leadership. He's led us in some really bold initiatives and people have followed," he says.
Not only that, but the entire pastoral team is in a good place, too, Robinson says. "We have a healthy pastoral team. We're not perfect, we know that, but we're working on things, we're learning together."
The second bold move, slated for October 2018, is a return to a multisite format that the church disbanded in the '70s. The new satellite campus will launch in a small neighboring community where they're hoping to see 50 to 100 in attendance. Robinson says that being in the Pacific Northwest is a driving force behind their desire to expand.
"Oregon is among some of the least-churched states," he comments, "so people just aren't that interested in God or spiritual things."
Despite the spiritual climate, he says that the church draws people from all different walks of life, socioeconomic status, age and race.
"We're very diverse. We're not a church for any one socioeconomic category. Albany isn't very diverse ethnically, but we definitely reflect the community," he says.
Along with the rebranding, the pastors wanted to make sure that Hope Church felt like home to everyone in the multigenerational congregation. They started what they call a "softer Sunday" service with "cherished hymns and classic choruses" and implemented an additional service on Sunday evenings, which he says has been really successful.
"We do a dinner after the 6 p.m. service, and people have responded really well to that. Adding that service has really contributed to a lot of our growth," Robinson says, noting that the Sunday night service can have as many as 220 in attendance.
Even with all the changes that have taken place over the past two years, Robinson states that none of the growth would have been possible without a healthy church body and leadership, thanks to the faithfulness of the Lord. And the one thing he has learned along the way is that there's no perfect time to take risks.
"We've got really good health in the church, but we still have a lot of areas that need improvement," Robinson says. "You don't have to have it all perfect to leverage what you have in order to reach people and transform lives."
HOPE CHURCH
Albany, Oregon
Lead Pastor: Frank Silverii
Website: Hope.Church
Founded: 1922
Affiliation: Assemblies of God
Locations: 2
A 2018 OUTREACH 100 CHURCH
Attendance: 1,021
Growth in 2017: +176 (21%)
Fastest-Growing: 69