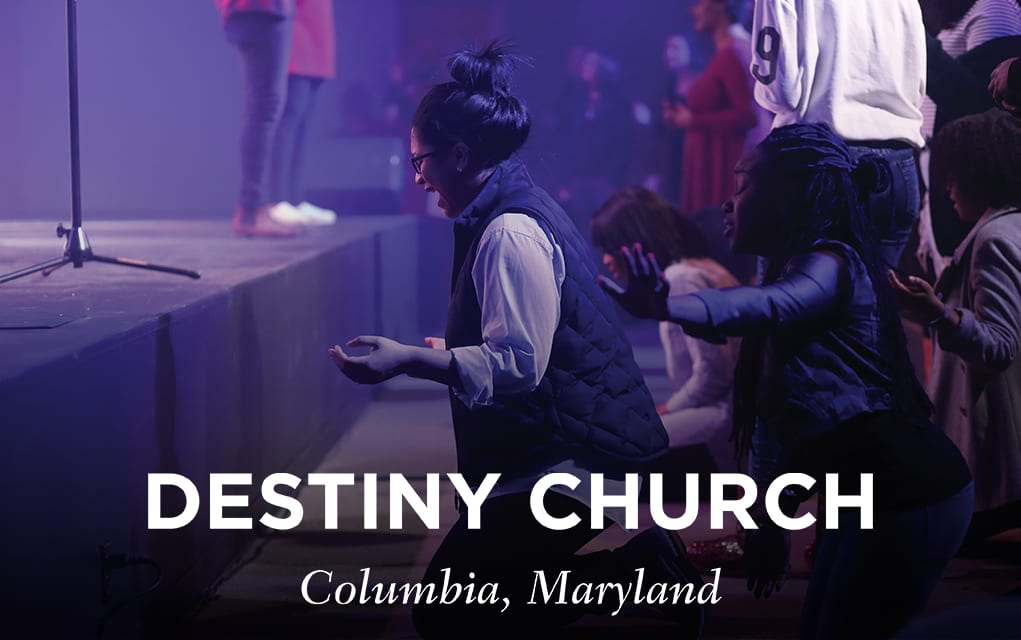 Destiny Church Knows the Key to Retention Is in Relationships.
When Alvin Lambert and his wife and child began attending Destiny Church in Columbia, Maryland, almost three years ago, two things convinced them to stay: the meaningful relationships they formed, and the church members' passion for truly living out the gospel.
The couple arrived at Destiny, a contemporary church of mostly millennials, jaded from their past church experiences, where Scripture seemed nothing more than words on a page and where tradition trumped all else.
"Nobody wanted to break free of that, even if it meant declining attendance and losing souls," Lambert says.
Though he was skeptical, Lambert quickly realized the kindness he was experiencing at Destiny was the real deal. He and his wife went through the church's growth track, he joined (and now leads) the prayer team, his wife joined the greeter team, and they even co-lead a marriage group.
"The Word was something we read before, but now we see evidence of life," Lambert says. "Here, the vision is living. You see it through the way people are changed and jump right in. And you're able to connect with people in your same walk of life. You establish friendships. It feels like home because you have those relationships."
Stephen Chandler, 31, is the senior pastor of Destiny. He knows how important relationships are to retention—and ultimately, to lives changed by Christ. In fact, he puts the importance of relationships at the center of almost every aspect of church, including interest-based small groups.
"Our main focus with small groups is not people learning God's Word but people building relationships with other believers," he says, "because we believe it's really those relationships that keep people in church. Once they're in church, then they can learn God's Word over a period of months and years."
The same goes for getting people onto one of the church's many serve teams, because they make connections there and feel like they're playing a tangible role in a bigger story. It's also true when it comes to the church's short assimilation track, since a formal membership process isn't as powerful as getting people into relationship as quickly as possible, Chandler explains. He even acknowledges that when it comes to retention, relationships trump his preaching.
"No matter how good the preaching is—and I think the preaching is actually pretty good—nobody stays in a church for it anymore," he says. "They can get great preaching on podcasts or YouTube or anywhere else. They stay in church because of meaningful relationships there."
Emphasizing the importance of relationships—of ensuring everyone who attends can find a group or team on which they feel at home—has helped people to find their place in the large congregation. But before Destiny's growth really accelerated, Chandler says, his team spent 18 months creating a plan to disciple more people.
"I had a pastor friend who said, 'God will not send you people to neglect,'" Chandler says. "In other words, if you don't have structure and systems in place to disciple people, God won't send them. When you're prepared to be a good steward of souls, then God will send them. We spent that time saying, 'Hey, if our church were to double, would we be able to disciple that many people?'"
Those systems—the growth track, connect groups, service teams—were intentionally designed to actively engage people in church life, encourage relationship building and ultimately to help them live out God's calling for them.
The planned community of Columbia was founded in the 1960s by a man who didn't believe in religion. He wanted to create a society, though, where people from all walks of life could live in harmony and get along. Ironically, more than 50 years later, Destiny Church is doing just that—with Jesus at the center.
DESTINY CHURCH
Columbia, Maryland
Lead Pastor: Stephen Chandler
Twitter: @YourDestinyMD
Website: YourDestiny.church
Founded: 2011
Affiliation: Nondenominationa
Locations: 1
Attendance: 1.130
Growth in 2017: +533 (89%)
Fastest-Growing: 16