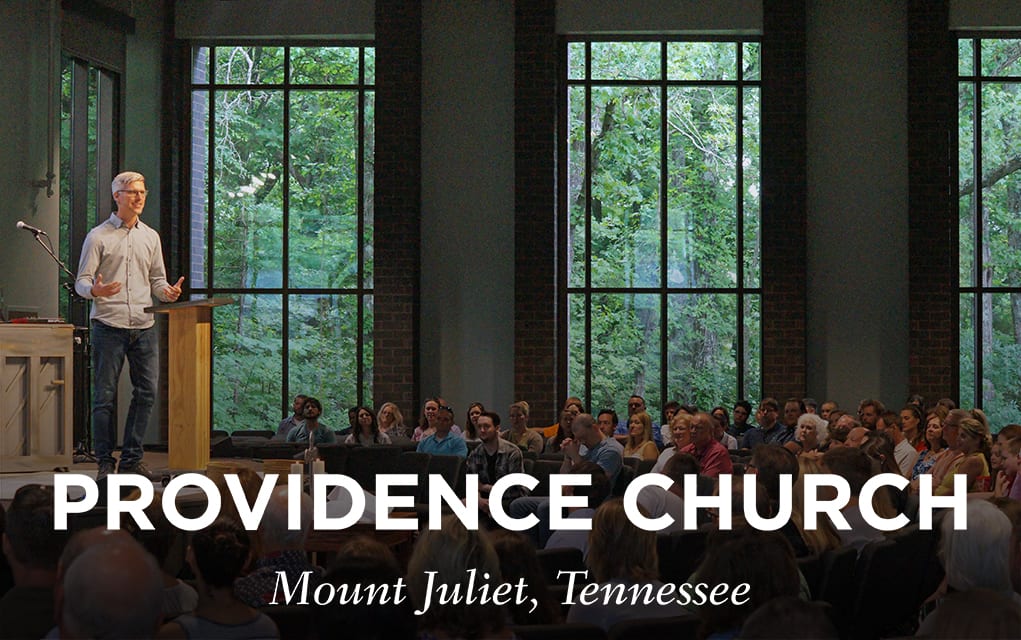 Tennessee Church's Welcoming Atmosphere Attracts All Ages
Providence Church in Mount Juliet, Tennessee, has developed a reputation in the community as being a place for everyone.
"Our church strives to reach people who feel disconnected from God or from the church," says Pastor Jacob Armstrong. "We want to create an environment that welcomes everyone."
One way church leaders do this is by paying close attention to the language they use. "Many people see a closed loop in which they don't belong when churches use words they aren't used to hearing," Armstrong says. "We are careful to use everyday language to break down those barriers."
Another focus of the church is to be fully present in their community. "We try to picture what people's lives look like and serve them where they are," Armstrong says, noting that sometimes that means stepping into hard things.
"Our church is working toward race reconciliation in our community. Our building is the site for a meeting between several predominantly white churches and several predominantly black ones. We want to start conversations that can bring healing and right things that are wrong in our community."
Armstrong stresses the importance of having a missionary mindset when planting a church. "Every day, I think about how we can connect to our community. We were a mobile church, meeting in a school, a park, a hotel, and a movie theater for eight years before getting our own building. We did that because we wanted to put our money into our community first.
"The thing I've learned the most over this past year is that our church needs a team-led mentality," he says. "I need to empower other people to use the gifts that God has given them and teach others to lead too."
Providence Church is unique because its members are so diverse in age. The church building is across the street from an active older-adult housing development, but the community as a whole is very young.
"Thirty-three percent of the people in our community are under the age of 18," Armstrong says. "Many people from the adult community attend our church, but we also have many young families who come. We are multigenerational."
Another unique factor is Armstrong's age. "I was only 27 when I planted our church," he says. "My age tends to attract younger families."
One of these families is Terry and Sara Rose and their two young sons.
"Neither my husband nor I grew up in church," Sara says. "We felt that if we ever did attend, we'd be judged because we didn't know the Bible and weren't raised in church like everyone else. We were very disconnected from God."
But in 2014, two of Sara's grandparents passed away. "I felt lost in my grief," she says. "I felt like something was missing in our family. Finally, I told Terry that I thought we should start going to church."
For the previous year, a friend had been telling Sara that she should try Providence. At the same time, a different friend was encouraging Terry to attend a service there. On the Sunday after Thanksgiving 2014, Terry and Sara and their sons entered the middle school gymnasium where Providence was holding services at that time.
"We were so nervous, and we didn't know what to expect," Sara says. "But as soon as we walked in, it felt like home. One of my favorite things was that the greeters didn't focus on just Terry and me. They welcomed my kids, too, and that meant a lot to me."
An older man asked if it was their first Sunday. That man was Pastor Armstrong's father. "That's when I realized that these people could become our family," Sara says. "Over the next year, Terry and I fell in love with Jesus and with Providence."
On the family's 100th Sunday, the four members of the Rose family were baptized. "It was such a beautiful experience, even though the church had to buy a bigger tub to accommodate Terry's height," Sara says with a laugh.
"We've never felt judged at Providence," she adds. "They are just glad you're there, and they love you as you are. Our church feels like home because the people there feel like family. Providence brings people in and then loves them well. And now, our family gets to be a part of spreading that love to others, like a domino effect that brings people to Jesus."
PROVIDENCE CHURCH
Mount Juliet, Tennessee
Lead Pastor: Jacob Armstrong
Website: Prov.Church
Founded: 2008
Affiliation: United Methodist
Locations: 2
A 2018 OUTREACH 100 CHURCH
Attendance: 1,728
Growth in 2017: +259 (18%)
Fastest-Growing: 62