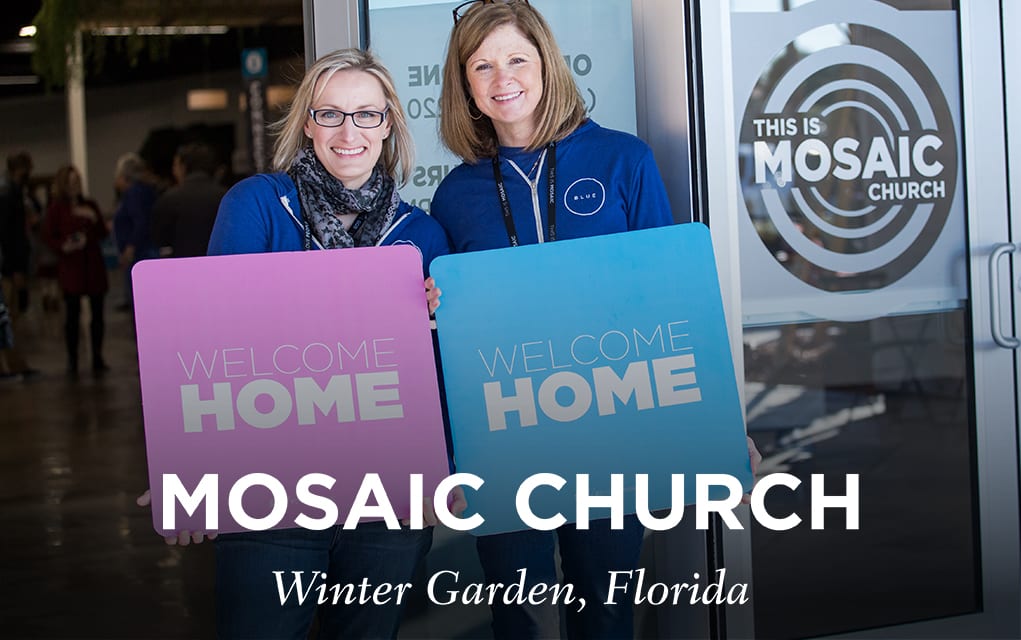 Mosaic Church Gives Visitors a Taste of Biblical Community
Jason Walker and his family had attended a solid, biblically based church for 14 years, but God told them it was time to move on. Walker says they were looking for someplace that encouraged people to live the gospel—to live on mission, not just on Sundays within the walls of church. So when they found Mosaic Church in Winter Garden, Florida, about four years ago, they knew they'd found a church that aligned with their own philosophy of what it means to be a Christ follower.
"This is what I've always seen or expected, and now I've found a place that lives it," Walker says.
He and his wife decided to stay at Mosaic for the same reason many others have: Because at Mosaic, the gospel is in action.
"We are regularly inviting people into this idea that God is writing this amazing story of redemption on planet Earth, and we get to be participants in that, not just recipients of it," Lead Pastor Renaut van der Riet says.
"They end up participating in their workplace, in their social networks, their neighborhoods. They find places that need redeeming of some kind—relational, circumstantial, emotional, financial—and participate in that. That creates a real sense of belonging, so people stick around."
And when people are living on mission, they're more likely to engage with the community and bring others into their circle—and into church. That's helped Mosaic grow.
It's also meant that when someone new does walk into Mosaic, it's common to spot people they recognize from their neighborhood. That's what happened to Walker, who is now a deacon and a member of several different ministry teams.
"We went to Mosaic to connect, and the first day we walked into an instant community. That was the thing we realized we'd been missing in our previous church. It was that community connection to not just people we see at church, but to people we see all over town. This is a church of the community."
Another element of Mosaic that appealed to Walker was that its leaders are intentional about living by the same principles they preach. For example, Mosaic as a church champions adoption, van der Riet says, who has four adopted children in addition to his four biological ones.
"I'm convinced that we lead far more in action than in word," he says. "I know that sounds obvious, but it's amazing how rare it is. People say a lot of things they know are the right things to say, but if you actually looked at their calendars, their money, at the things they prioritize, it often doesn't line up with what they say matters most. People are watching how we live, so we better be living what we're saying."
But above all, leading a growing church means thinking about giving everyone attending a gospel experience.
"We want to try to surprise and delight people with gospel experiences," van der Riet says. "We're constantly asking how people will experience the reality of the gospel once they walk through our doors. Our question isn't so much how we can make sure they stay. The relevant question is, 'Are they having a gospel experience?'"
Mosaic's brand new facility, which opened in December 2017, has also boosted attendance, van der Riet admits, especially because the new location borders a neighborhood the church hadn't previously reached. But no matter who walks through their doors, he says, ensuring each person senses the Holy Spirit in a community of believers they already recognize is a great way to grow the church.
"Making the gospel beautiful to people is part of the reason people come to and stay at Mosaic," he says. "They're part of something bigger than they ever imagined or thought they could be."
MOSAIC CHURCH
Winter Garden, Florida
Lead Pastor: Renaut van der Riet
Twitter: @This_Is_Mosaic
Website: ThisIsMosaic.org
Founded: 2003
Affiliation: Nondenominational
Locations: 2
A 2018 OUTREACH 100 CHURCH
Attendance: 3,177
Growth in 2017: +897 (39%)
Fastest-Growing: 8