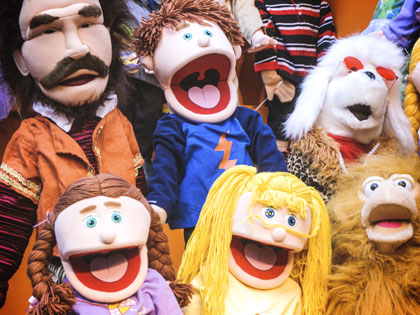 A youth group turns puppet masters, creating elaborate puppetry shows to teach younger kids the gospel.
The "GLO" of Christ shines brightly at Sunnyside Baptist Church in Kingsport, Tenn., where students "Go Love Others" through their puppet ministry.
The GLO ministry, which started 15 years ago with a wooden stage and eight volunteers, has blossomed to include 45 seventh- through 12th-graders and 10 leaders who manipulate countless puppets, some simple, others elaborate. During the shows, which are performed in churches, at nursing homes and on mission trips, the youth sing songs and quote Scripture.
Last year students enacted an undersea adventure about how God made all things wonderful. More recently, they staged a show where puppets interacted with humans to highlight social media issues. This summer, they'll kick off vacation Bible school by performing a jungle-themed production.
The Rev. Todd Latham, the church's youth pastor, recalls a time when the group was supposed to perform at a block party outside of Cleveland, but when the event was rained out, they instead staged an impromptu show at the Cleveland YMCA.
"After the show, we were starting to tear down, but the director asked us to stay and keep going," says Latham. "That was God at work."
Sunnyside, with an average weekly attendance of 500, will host a puppet conference this fall where the GLO team will demonstrate puppet maintenance, use of black lighting and the orchestration of puppeteers. First, however, the ministry travels to Washington, D.C., where they'll perform by the Lincoln Memorial Reflecting Pool. "We've come a long way," says Latham, "to go from a wooden stage to our nation's capital."