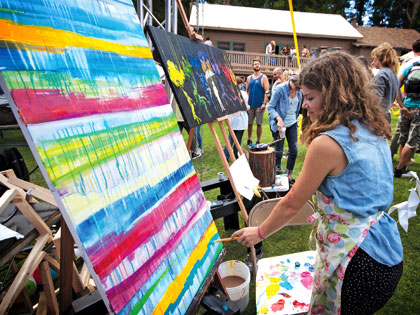 A church in L.A. reaches its community of creatives through an arts ministry.
When Darin Martinez was introduced to the community of artists at Mosaic Artisans, the fear and anger that gripped his heart and immobilized his spirit faded. "Creating opens my heart to God," Martinez says. "Creating, to me, is a form of worship."
Mosaic, a trendy Los Angeles church, boasts an average weekend attendance of 3,000, not including the 4,000 folks who tune in on live stream or the 80,000-90,000 who watch via podcast. Mosaic Artisans is an outreach ministry that offers local residents free classes in acting and improv comedy, dance, film, spoken word/poetry, stage design and visual art/design. The classes, which are run mainly by church volunteers, teach that the arts are a form of worship in response to God.
"The role of our ministry is to recapture the Creator's spirit in every human being," says Artisan Pastor David Arcos. "We want to unleash the creativity in every member of the community. Every engineer, every plumber, every dancer, every guitarist, every teacher."
In order to access that creativity, however, people must first be moved by the Holy Spirit, which rarely happens instantaneously.
"If people see a beautiful dance, they don't just fall down and give it up to Jesus," Arcos says. "Often they belong before they ever believe."
And that's OK. A strong community presence gets the Spirit moving, enabling folks to embrace the ministry's three core values: to live by faith, to be known by love and to voice hope to others. The ministry has experienced explosive growth in recent years, going from just a handful of artists to nearly 2,000. Is it because people in this urban, artsy enclave adore singing, writing, dancing, painting, acting and filmmaking? Well, sure. But the driving force is Christ.
"Art inspires people," Arcos says. "Just like God."