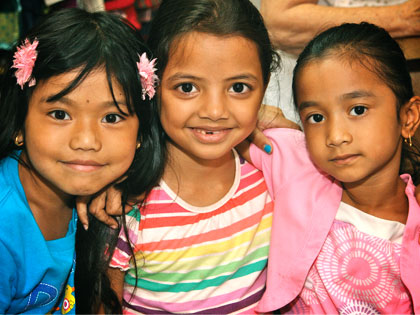 A Texas church ministers to Bhutanese refugees.
Almost four years ago in an Abilene, Texas, Hobby Lobby parking lot, two Bhutanese women approached Pat Cranfill for directions to a bus stop. She instead gave them a ride to where they needed to go. What followed was a friendship that united her church, Southern Hills Church of Christ, with the nearly 400 Bhutanese-Napali speaking families who live in Abilene.
Her simple act of kindness grew into a ministry as she and others from the 1,200-member congregation recognized and met the needs of the refugees.
"God's fingerprint has been all over this," says Phil Ware, the church's former minister of outreach and mission. "Our Bhutanese Refugee Ministry didn't happen accidentally; it happened ACTSidentally," referring to the moves of the Holy Spirit recorded in the book of Acts.
Though many of the Bhutanese are Hindu, they participate in Bible classes and discover Jesus as Savior and the one true God. The core of these classes is taught by David Peterson, a convert from Hinduism and minister of nearby Clyde Church of Christ. Peterson not only speaks their language but understands how deeply rooted their religion is to their culture. He also knows his path from India to Texas was no accident.
"God had me planted here to work with them," says Peterson, "before the refugees moved in." 
The ministry has now come full circle.
"Three years ago I baptized Deepak Sarki," Ware says. "He is a young man, passionate about leading other Napalis to Jesus. Deepak has started a prayer team, and they have committed to reaching out to every Napali-speaking family."
"We want to show them the love of The God and his family so they can make a relationship with The God," adds Sarki, who has baptized some of the new Christians.