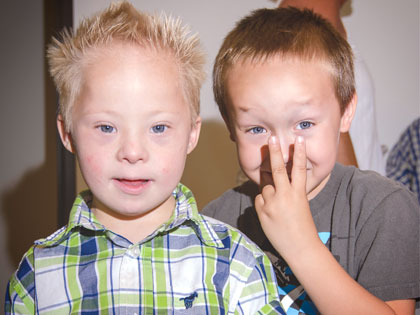 A California church creates a welcoming environment for kids with special needs.
As the mother of a 3-year-old son with Down syndrome, Angela Frantz, 39, says parents with special needs children can feel isolated when they find facilities unprepared to welcome them.
"There are so many parents who feel there is no place for them," she says. "The church is the last place it should be happening, but it's so common."
Thankfully, Frantz added, her Bakersfield, Calif., church—Canyon Hills Assembly of God—recently debuted a facility designed for children ages 6-12 with special needs.
The Champions Club includes a padded play room with swings, a trampoline and musical hopscotch; a sensory room with weighted blankets, massage mats and colorfully lit bubble tubes; an educational room with iPads and a tactile wall; and, of course, a worship room.
The first Champions Club was created in 2008 by the Houston-based Lakewood Church, and now there are six such operations nationwide.
"I have seen so many families leave the church hurt for its inability to fully minister to their special needs children," says Middle School Pastor Robin Robinson. "But the Bible calls us to minister to the least of these. What an opportunity."
Canyon Hills, a megachurch on 40 acres, consists of eight buildings, but Robinson says the Champions Club will likely prove particularly important.
"That building has the potential to reach our community more than any other building at our church," Robinson says. "We've had families standing in the room literally saying, 'We haven't been in a church in five years.' This is an unreached mission field."