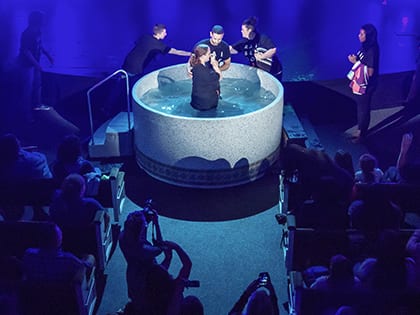 No. 58 Fastest-Growing: Maryland's Lifehouse Church Reaches More Through Meeting at Different Venues
Seventy-five miles northeast of the nation's capital sits Hagerstown, Maryland, a unique mix of cosmopolitan and rural, minutes away from three different states. Lifehouse Church is a reflection of this community. "We have people involved in policy-making, and Ph.D.s working on cancer research. We also have people competing in tractor pulls," says Lead Pastor Patrick Grach.
Guided by what he calls a "pretty lofty vision," Grach moved to Maryland specifically to plant the church in 2003. "My passion was not just to pastor a church but to pastor a city."
And the timing could not have been better. Hagerstown began a season of growth as people who work in Washington, D.C., began to look farther away from the capital for affordable housing.
The church team spent 18 months in the launch season. In April 2005, they had their first public service with 24 people. It's been a long and bumpy road, Grach says, but the vision is coming together. The church now meets in a multiplex movie theater for three different services, with additional gatherings taking place in a traditional facility.
"We moved nine times through that process," Grach says. "Today, we have our church that is in two physical locations, but four campuses. We have three venues in one location for a total of seven services on Sunday."
Lifehouse doesn't see itself as separated but as one family that meets at a variety of different times and places, with Grach rotating between the locations throughout the year. He calls this a "hybrid satellite campus" model. The different locations have campus pastors that preach about six times a year. Normally they record Grach's Saturday evening message and play it back at whatever campus he is not going to be at on Sunday morning. This method was born from necessity in late 2014, when Lifehouse's sponsoring church merged with theirs.
Grach believes their current season of growth is due in part to the variety of times and locations they offer, and because the preaching is grounded in the Word of God and delivered in a very relevant and conversational way.
"We're not preaching at them but having a conversation with them," he says, adding that this approach resonates with the mix of people in the area.
One example is Ethan Naylor. He grew up going to church but fell into the party scene in college. He came to Lifehouse broken and responded to a message of hope. The relevant messages at Lifehouse have taught Naylor that "Jesus is the author and finisher of my life," he says. "He's been instilling a new identity and new truth in me. Ever since I've been plugged in at Lifehouse, God has just been taking me from strength to strength, glory to glory—and that is where my identity lies."
Grach also credits the church's growth to a culture that is inviting and willing to share life with people. It's not just spoken, it's demonstrated. "I reach my neighbors," he says. "It's not uncommon for one of our staff members to baptize their neighbor." He says that the church's model is simply coming alongside people and becoming friends. "Then they can see Christ in us," he says.
Another goal at Lifehouse that fits with its vision is being a friend and partner to other local churches. "We have made it a priority to not be about our church but about the church," Grach says. "We want Jesus to look good, not us to look good."
One example of this collaborative community partnership is the Convoy of Hope project. For the last five years, a convoy of trucks and services has rolled into Hagerstown to provide for the neediest in the community.
"We got 60 other churches to partner together for that one day of compassion," Grach explains, adding that teamwork has "raised the climate of people's perception of the local church."
Lifehouse also recently launched For Our City, an outreach initiative in partnership with other local churches to reach everyone in the region with the gospel. Grach says that if even 10 percent of the people respond, not only will Lifehouse continue to grow, but "every church in the Hagerstown region will see growth."
Read more Outreach 100 fastest-growing church profiles »
LIFEHOUSE CHURCH
Hagerstown, Maryland
Senior Pastor: Patrick Grach
Website: LifehouseChurch.org
Twitter: @PatrickGrach, @LifehouseMD
Facebook: /LifehouseChurchMD
Founded: 2005
Affiliation: Assemblies of God
Locations: 2
A 2017 OUTREACH 100 CHURCH
Attendance: 1,847
Growth in 2016: +291 (19%)
Fastest-Growing: 58