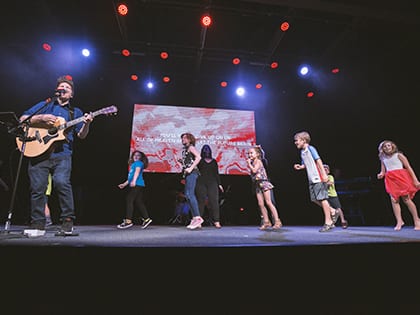 No. 29 Fastest-Growing: Calvary Baptist Church in Arizona Intentionally Serves the Whole Community
Lake Havasu City, Arizona, is home to a number of pleasant surprises. First, there's Lake Havasu, a large reservoir in the middle of the desert well-known for recreational fishing. Next is the London Bridge, a structure formerly dismantled in the United Kingdom and reconstructed in the Southwest desert. And in a town of just over 55,000 people, Calvary Baptist Church is making a positive impact on its community.
When Lead Pastor Chad Garrison took over in 1992, the church had just celebrated its 20th anniversary. Garrison has seen lots of growth in the town—as well as at the church—since that time.
"We grew as a healthy, traditional church for about 10 years," he says about hitting the 500 mark.
A few years into the work, he felt convicted that "just collecting Christians wasn't what God wanted us to do." So the church began to shift its focus toward reaching the unchurched. Today, Garrison estimates that about half of the church's members were baptized there.
"We really started to intentionally serve our community and get outside the walls of the church. Instead of just inviting people to church, we went to them," he says. "Everybody knows that Calvary is the church that is painting the schools, providing kids' activities in the midst of festivals and putting on an annual car show."
This intentionality has led to even more growth. By 2014 Calvary was running five services each weekend. When people had to park blocks away on Sunday mornings, it became clear that the church had outgrown its worship space. Calvary broke ground that year on a parcel of land that was purchased years earlier. The new facility opened in May 2016.
"That was the impetus for our most explosive growth ever," Garrison says. "We jumped considerably over the course of the year, adding 400 to 500 people."
Of course, getting out into the community and getting people in the doors is only part of the story. How does Calvary keep them coming back? Garrison says that it's really two key components: joy and generosity.
"Our worship is joyful," he says. "We're going to celebrate the fact that you're obeying God and God is working in your life. We just really lean in to joy."
The church also practices generosity year-round. "We give over 20 percent to mission causes," Garrison says. "We're big supporters of international missions, local missions and church planting, but we are also very generous in our community."
At the beginning of the school year, Calvary gives gift cards to teachers for supplies. Around Thanksgiving it distributes grocery-store gift cards. Garrison says that they want to demonstrate giving more than they are asking people to give. "I can't tell you how much that creates credibility with the lost," he says.
This joy and generosity makes for a welcoming environment, and the evidence comes from the people who go to Calvary. Garrison shared a recent email from a woman named Christie, who has been involved with Calvary for less than a year. She and her husband had been frustrated with church for a long time, but since finding Calvary, their attitude has changed.
"I just have to say that what you guys are doing is truly amazing!" Christie wrote. "My husband and I feel so moved after we leave your church. Honestly, we feel closer to God when we leave and that's never happened before."
Calvary is counting on more growth ahead. They plan on opening a satellite campus and, of course, having even more community involvement.
Read more Outreach 100 fastest-growing church profiles »
CALVARY BAPTIST CHURCH
Lake Havasu City, Arizona
Senior Pastor: Chad Garrison
Website: CalvaryLHC.com
Twitter: @CalvaryLHC
Facebook: /CalvaryLHC
Founded: 1972
Affiliation: Baptist
Locations: 2
A 2017 OUTREACH 100 CHURCH
Attendance: 2,026
Growth in 2016: +448 (28%)
Fastest-Growing: 29