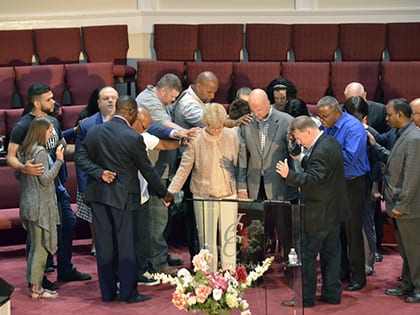 No. 82 Fastest-Growing: International Christian Center in New York City Turns Tragedy Into Triumph
Annette Martinez attended church for most of her life before she moved to Staten Island, New York, in 2002. Then life got busy, and finding a new church home became less of a priority. When her second husband died in October 2016, she found herself in a new phase of life. Not only had she been widowed twice, but she was now an empty nester. She knew it was time to go back to church.
"I was determined," she says. "I went to International Christian Center (ICC) one of the first Sundays in January. I'd seen the church before and I'd visited it once a long time ago. But something compelled me to go back. And God really wanted me there that day."
That's because Lead Pastor Ronald Squibb was preaching on the Beatitudes, and Martinez clearly remembers him spending time on Matthew 5:4: "Blessed are those who mourn, for they will be comforted." Squibb went on to talk about the recent loss of his daughter, who had passed away unexpectedly of a pulmonary embolism. She was 31 and left behind a husband and three daughters.
The message hit home for Martinez, and Squibb's own vulnerability in sharing his personal grief touched her. She has returned to ICC almost every Sunday since, even joining the church's Grief Share class and continuing to mourn alongside Squibb's wife, Emma, who also attended the class.
Martinez is just one of many examples of Staten Island residents who learned of the Squibb family's tragedy, were moved by it and have turned to God—and the church—as a result.
"This has been a tragedy that the Lord has turned around," Squibb says. "He's given me opportunities to talk about it, and through that, people have come to the Lord. We livestream on Facebook, too, and a couple thousand people every weekend watch us and have come because of what happened."
The news traveled around Staten Island quickly. Just under half a million people call the island home, and ICC is the largest church in the New York City borough.
"Everybody heard about it," Squibb says.
After his daughter's death, Squibb took a few months away from church to mourn privately with his family. When he returned, he spoke freely about his pain—and about God's power to comfort. That opened doors for others who were grieving their own losses to find comfort in God—with a church community and pastor who really understood them.
"I'm not just preaching a sermon," Squibb says. "I'm talking about where I'm at, what's going on with my granddaughters. It's real life. It builds relationships with people, and they're real. Sometimes the people on the platforms are the performers, and you can't relate to real life. But when tragedy hits you, it makes you vulnerable, transparent and open."
It's also caused the church to place a greater emphasis than ever on outreach and relationship-building. It has improved its ministry that feeds the homeless, and congregants are leaving the four walls of the church to do ministry more often than ever. Squibb's preaching this year has also reflected that shift, often focusing on overcoming suffering, reaching the hurting and developing a heart of mercy and meekness.
ICC's theme for 2017 has been "Transformation," and that's proven to be more appropriate for this particular church in this particular season of its ministry than anyone realized.
"We've just got to do the next thing, be faithful to God and participate in the process God is taking us through in our lives," Squibb says. "We're shaken, but we're not going to be moved. What the Enemy meant for evil, God turned around and meant for good."
Read more Outreach 100 fastest-growing church profiles »
INTERNATIONAL CHRISTIAN CENTER
Staten Island, New York
Lead Pastors: Ronald Squibb
Website: ICCNYC.org
Twitter: @PastorSquibb
Facebook: /ICCNYC
Founded: 1947
Affiliation: Assemblies of God
Locations: 6
A 2017 OUTREACH 100 CHURCH
Attendance: 1,870
Growth in 2016: +244 (15%)
Fastest-Growing: 82