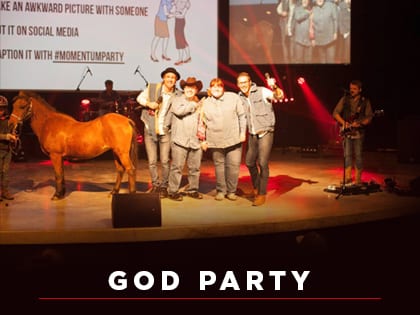 Ministry at Cornerstone Church in Highland Township hosts weekly "God Parties" for young adults age 18 to 39.
Pradeepan Jeeva knows what it's like to be an outsider. Immigrating to Minnesota from Sri Lanka as a young boy, he never felt as if he fit in.
"I struggled with identity and suicidal thoughts," Jeeva says. "Then a girl invited me to a youth [meeting at] church, and I not only fell in love with Jesus but [also] gained a community that made me feel valuable."
Today, Jeeva wants young people in Highland Township, Michigan, and beyond to experience that sense of acceptance—and he's doing it by hosting fun-filled parties. As lead pastor of Momentum, a ministry of Cornerstone Church, Jeeva and his team host a "God Party" every Tuesday night for young adults age 18 to 39.
"LifeWay Research has found 70 percent of young adults stop attending church after graduating high school," Jeeva says. "This statistic drives us to bridge the gap between youth ministry and adulthood. As these young adults grow in faith and community, we believe they will experience the abundant life Jesus offers."
The party approach is working. Momentum averages between 120 and 150 people each week, representing up to 20 different area churches. And more than 200 people regularly come to the end-of-month parties.
"Our community loves to be goofy and experimental," Jeeva says. "These parties—like our Denim Night with Horses, Netflix and Chili, and Slip 'n' Slide parties—give people a chance to have fun in church. Jesus and fun are contagious."
Not only are party attendees enjoying the refreshments, live music and messages, they also are accepting Christ. Jeeva recalls one young man who received an invitation to attend God Party at the exact moment he put a gun in his mouth.
"He decided to give life one more chance," Jeeva says. "He came to Momentum, encountered Jesus and grew in faith. Then, he used his story to encourage others to do the same."