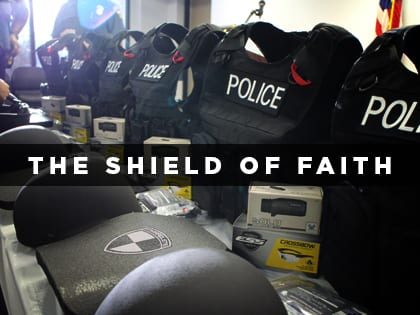 Alethia Church in Colorado Springs partners with city police department to sponsor officer safety.
On the morning of Nov. 27, 2015, an armed man attacked a Planned Parenthood clinic in Colorado Springs, Colorado, injuring five officers and killing one.
"They were up against a threat that they did not have physical protections against … a rifle round," says Officer Jake Skifstad, a 12-year veteran of the Colorado Springs Police Department.
That fateful day gave Skifstad a sense of urgency to equip his fellow officers with active shooter gear—something that is not standard issue, even during a time of great hostility toward law enforcement. He immediately ramped up efforts, partnering with his church, Alethia, to raise support for the burgeoning ministry.
The ministry's name—Shield616—is inspired by Ephesians 6:16, underscoring their desire to provide officers with physical and spiritual protection—the shield of faith. The verse is sewn into the front panel of each donated vest.
"Caring for the officers' practical needs can impact their hearts and their families," says Alethia missions pastor, Adam Peek. The church, which averages 200 weekly attendees, raised more than $15,000 for the ministry within the first six months of its launch, allowing for seed money as well as equipment for 15 officers.
Through sponsor giving, Shield616 provides $1,000 worth of gear to each officer, including a plate carrier vest, a ballistic helmet, rifle-rated armor, safety glasses, a gunshot-wound trauma kit, a gas mask carrier and a monocular for viewing threats from a distance. In addition, sponsors are encouraged to meet with and pray for the officer.
Skifstad's vision for the ministry goes beyond Colorado Springs. "Anyone, anywhere in the country can join this program—we connect officers with local believers who can hopefully plug them into a church," he says. "They need gear today, but they also need Jesus today."
Find more ways to serve your community »