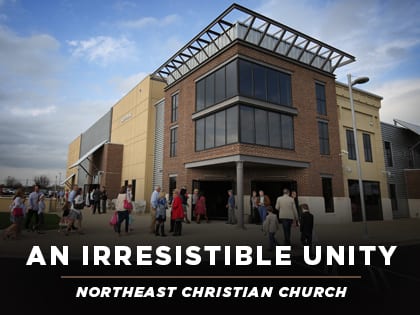 No. 49 Fastest-Growing: Northeast Christian Church in Kentucky Focuses on Church Unity and Church Health
Sally Valenzuela remembers her 11-year-old daughter repeatedly begging her to visit Northeast Christian Church in Louisville, Kentucky, after hearing friends talk about the children's ministry. That was five years ago.
"Every time we passed the church, she would say, 'It looks like a lot of fun, Mom. My friends say it's a good place to go on Sundays,'" Valenzuela says.
Valenzuela and her husband had just separated, she says, and she did not believe in God. She knew, however, that her daughter longed for more consistency in her life, so she relented. During their visit on Memorial Day weekend, she noticed that Northeast Christian's congregation and worship music differed from her expectations.
"Everyone was laid back and friendly," Valenzuela says. "People were wearing jeans and not their Sunday best, and they brought coffee into the sanctuary. It was so different from what I was used to. The sermon was applicable to real life, and I wasn't used to that either."
By November, she was baptized and had begun volunteering. She and her husband also entered Northeast's marriage counseling program and were able to restore their marriage
Senior Pastor Tyler McKenzie says his congregation's number one priority is recapturing the dynamic church of Acts Chapter 2. The growth of the church, he says, is partly due to what he calls the church's "go to" mindset.
"We believe that more and more, the biggest obstacle in American churches is apathy," McKenzie says. "No matter the quality of the services or ministers, if people don't care, they're not coming. So we decided that we would create as many intersect points as possible inside our four walls and out in our community."
The intersect points include the "Love the 'Ville" campaign, in which the church partners with local nonprofits to perform acts of kindness in Louisville. The activities include cleaning up an abandoned cemetery, helping to refurbish houses for those in need and performing community service.
"I think more people in our city know our church as the 'Love the 'Ville' church," McKenzie says.
Northeast Christian's largest campus is in a suburb of Louisville, and there is a smaller campus in Clifton, which is an older, up-and-coming section of the city.
Besides its outreach efforts in Louisville, McKenzie also credits church unity for its growth. He took over the reigns as pastor this past April after its founder, Bob Cherry, retired. Prior to the change, McKenzie says a church transition consultant warned them that such a transition, if handled badly, could split the church. A major hurdle they overcame, says McKenzie, involved proving to the congregation that they could continue being a healthy, biblical church going forward. He also credits the transition's success to Cherry, who he says put the interests of the church first and supported McKenzie during the leadership change.
"Everyone is focused on remaining unified and doing what's best for the church," McKenzie says. "I think our unity through this has been so refreshing and attractive and irresistible in our community."
McKenzie says the church has also invested heavily in social media to reach people. Northeast Christian uses Twitter and Facebook, uploads podcasts of sermons on iTunes and posts videos of ministry events and congregants' testimonies both on the church website and YouTube.
Moreover, McKenzie says they work to nurture a healthy church staff. "If the staff isn't healthy, the church isn't healthy," he says. To do this, he encourages his leaders and staff to be transparent with each other rather than being political or guarded.
Valenzuela says that after joining Northeast, she began attending one of the church's small groups, which supported her as she sought treatment for a drinking problem.
"There was no judgement," she says. "The church was very accepting of that flaw in me when I never would have been accepted in any other environment."
Now, as a staff member, Valenzuela directs the church's First Impressions ministry, which includes managing the volunteer ushers, greeters, servers and parking attendants, as well guest relations and the café.
McKenzie says he encourages his staff to enjoy church, to actively uplift each other daily and to celebrate victories. They also work to inspire each other to set goals to grow spiritually, personally and professionally.
"We aren't trying to grow the church," says McKenzie. "We're trying to be a healthy church."
Read more Outreach 100 fastest-growing church profiles »
NORTHEAST CHRISTIAN CHURCH
Louisville, Kentucky
Lead Pastor: Tyler McKenzie
Website: NECChurch.org
Twitter: @WTMcKenzie, @NECCWired
Facebook: /NECCWired
Founded: 1977
Affiliation: Independent Christian Churches
Locations: 2
A 2016 OUTREACH 100 CHURCH
Attendance: 3,263
Growth in 2015: +538 (20%)
Fastest-Growing: 49