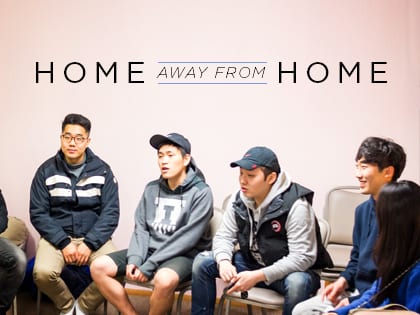 There are less than 50 permanent members in the congregation, but as many as 150 students populate the college ministry.
Feet away from the campus of Indiana University, the Korean United Methodist Church of Bloomington comes alive each week with a demographic you don't typically find in church: college students.
And though there are less than 50 permanent members in the congregation, as many as 150 college students populate the Sunday worship services, Bible studies and community programs the church offers each week. These transient members are the face of the church's student outreach program, which offers a home to international students who otherwise may have trouble finding a community in a new town.
"One of our main goals is to reach out to Korean students and to help them not feel alone in Bloomington," says Eunbong Chang, president of Korean UMC's college ministry. "They rarely have Korean friends. But that is made right when our church reaches out to them and invites them to join our church. We help each other, feed each other and take care of each other."
Chang says that the church supplements the well-attended Sunday service with small groups, retreats, mentor programs, holiday activities and community outings. Following the first service each Sunday, the long-term members of the church cook an enormous Korean meal for college-aged attendees.
Still, in having a thriving college ministry, there are specific challenges to ministering to this crowd. "One of the rewards we see is the change in their lives through God in a short period of time," Chang says. "Once they open their minds and start to worship God, they are drawn to participate in a small group Bible study on Friday instead of being drunk on Friday night.
"They become leaders so that they can experience growth and influence others through God's love. However, some college-aged students make mistakes inside and outside of church: dating issues, bullying or drinking with other church members. We try to minimize these issues by discussing church leadership and the pastor's sermon."