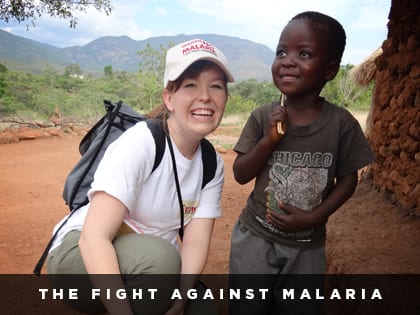 St. Andrew UMC uses creative outreach to raise money and awareness for Imagine No Malaria in Sub-Saharan Africa.
Taurai, a shy boy in rural Zimbabwe, loves his bright green "Imagine No Malaria" wristband from Christians in America. But it's the net they hung above his bed that means the most, for it protects his very life.
Taurai's family not only lacked mosquito nets but also the knowledge that they needed them, according to Ashley Gish, assistant campaign director for Imagine No Malaria. The United Methodist Church organization works to end preventable deaths by malaria in sub-Saharan Africa, where the disease kills one child every two minutes.
"We knew we could help," says Lucy DeBarge, missions coordinator at St. Andrew United Methodist Church in Toms River, New Jersey.
DeBarge says she finds the malaria death rate in Africa tragic, especially considering that the disease is both preventable and treatable.
In 2012, she organized the first "Spread the Buzz Hoop-A-Thon" fundraiser for her church of about 180 attendees.
Now, the congregation's three-hour event raises thousands of dollars annually for Imagine No Malaria's three-prong approach: insecticide-treated nets, education and clinics.
DeBarge says of their "Tic-Tac-Mosquito" sheets, "We 'swat' out a mosquito on the card." Children complete the mosquito boards by visiting 14 game stations in the fellowship hall.
Other participants take the free-throw challenge, after first obtaining sponsors. They then have two minutes to make as many baskets as possible. Younger children aim at smaller basketball hoops or bins.
The 2015 event—with bake sales, concessions, basketball sponsors and roughly 80 attendees—raised $2,100 for Imagine No Malaria. That amount is part of the $7,564 that congregants have raised for the organization since 2012.
The event has also raised awareness. Few people in the community knew the extent of the malaria problem before the church began its initiative, but children in Toms River are learning, according to DeBarge.
"And they truly get it, and want to help," she says.