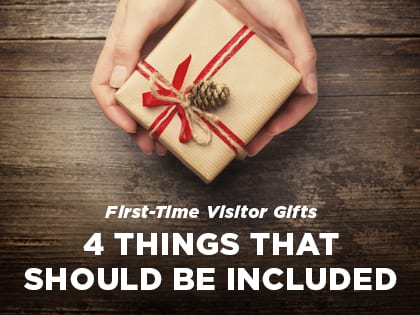 "A gift bag, if done well, can play a major part in a person's decision to visit your church again."
You can never make a second first impression. A guest's first experience when they step foot into a new church will not only shape their initial opinion of the church but also their potential involvement. This is why we must consider ways to make guests feel welcome, such as having friendly greeters, visitor parking and informative signs to direct first timers.
One area of guest hospitality that is often overlooked is the first-time visitor gift. A gift bag, if done well, can play a major part in a person's decision to visit your church again.
The gift bag has many potential purposes. In addition to saying, "Thank you for visiting our church," it should contain information on how to get involved and ways to contact the church staff. A good visitor gift bag will seal the deal on a great first impression.
In his article "How Disney Creates Magical Experiences (And a 70 Percent Return Rate)," Gregory Ciotti writes, "What better way to end a magic experience than with a smooth exit? Unfortunately, Disney found many guests had problems finding their cars when leaving on trams. Tram drivers now keep a simple list of what rows they work each morning … [that way] the tram drivers will know what location the guest parked in. A huge win for ending the day without hassle."
Disney recognizes the value of finishing a great experience well, even when it takes extra effort on their part. A good visitor gift is not a supplement for a great experience at your church, but is the cherry on top that will bring guests back.
Here are a few must haves for every visitor bag.
1. Use a high-quality cup or bag.
My church chose to use a tumbler cup customized with our church logo. Using a cup is a great way to shuttle the information that needs to go in our first-time visitor gift. Having a customized tumbler can be a little more expensive, but quality always costs something. The tumbler is re-usable, and just like a business card or customized pen, can help people remember your church above the others they have visited. If looking for a cheaper option, you can also have little plastic gift bags customized.
2. Include clear information about the church.
We have found that one of the reasons many people do not become involved in a church they are visiting is because they do not know where to start. To remedy this problem, we created a clear process for our guests. This process outlines the steps for getting involved with the church. We include information such as how to sign your children up for youth or kids programs, how to join a Sunday School class and opportunities to serve. Instead of printing this information out on cards, we put it on a customized flash drive. The flash drive is a great way to share this information and shows that we care about giving them a quality gift.
3. Always include a sample sermon from the senior pastor.
This can be on a CD, but we put ours on the flash drive with the rest of the guest information. A sample sermon helps guests to get a better feel for the senior pastor's preaching style. It is also useful for guests if they happen to visit on a Sunday when the church is having a special service or guest speaker.
4. Give it your church's special touch.
It may seem a little over-the-top, but we always put in a seasonal drink mix and candy that we rotate every three months. This way we keep our visitor gifts fresh. This is our way of putting our special touch on our cups.
Done poorly, a visitor gift leaves a cheap and unsatisfied taste in the mouth of a guest. When thoughtfully and tastefully put together, it will not only bring them back for a second and then third visit that soon makes them a familiar face in your congregation, but it will also give them enabling tools to grow closer in their faith and in the family of Christ.
Nathan Smith is the youth and children's pastor at Pleasant Gardens Baptist Church in Marion, North Carolina.