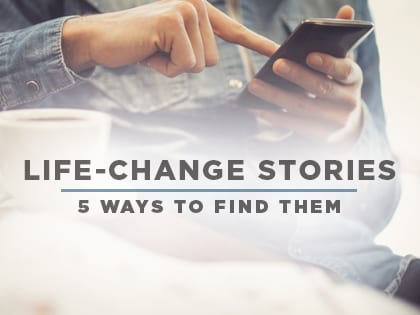 "Telling stories is a powerful way to demonstrate God's faithfulness in our churches and in our lives."
Telling stories is a powerful way to demonstrate God's faithfulness in our churches and in our lives. The key is to be proactive in gathering stories and creative in telling.
1. Keep your antenna out.
Good stories will rarely just "come in" to you. It takes a lot of discipline, but one of the best ways to gather stories is to keep your story antenna constantly out. You'll likely see that story-gathering opportunities are all around you. If a staff person talks about something that happened in their ministry at staff meeting, look for the story behind it.
Tip: Keep a running document in Evernote so when you hear of a story, you can jot it down and follow up later.
2. Get out of your office.
If the youth group meets on Wednesday night, pop in to the youth minister's office on Thursday morning to ask him what happened the previous night. Drop in on your small groups pastor's office and ask him what he's excited about in his ministry area. On Sunday morning, get out and be among the people to hear stories of life change.
3. Add a form to your website.
Every once in a while someone might be looking for a way to share his or her story. Why not make it easy by adding a "tell us your story" form to the website?
4. Survey membership and newcomer classes.
People who are new to the church, who are looking to join as members or have just started in their faith journey, are often ripe with stories. Ask the person in charge of these classes if you can insert a survey form into the materials that are handed out at meetings and classes where these folks might be. This is a great way to find stories of life change.
5. Ask the secretary and/or receptionist.
The people who answer the phones or greet visitors that come into your office often have the best handle on the pulse of the organization. As such, they can be a treasure trove of good stories that you can leverage.
Check out 6 creative ways to share life-change stories »
Chuck Scoggins is the executive director at the Center for Church Communication and the owner of 374 Media Group, a creative agency providing design, web and mobile solutions for smaller organizations. This post was originally published on ChuckScoggins.com.