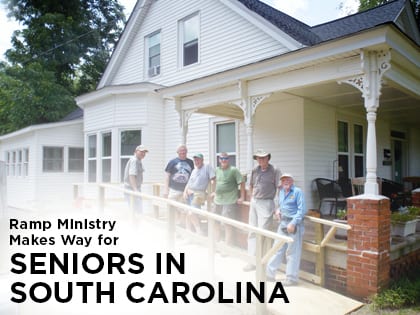 Volunteers at St. John's United Methodist Church build handicap accessible ramps at facilities in community.
A plumbing crisis forced a retired teacher from her home, but bad knees kept her from accessing the very ministry offering her shelter.
"She couldn't get up the stairs," says Deborah Lamb, executive director of My Father's House, a residential ministry.
That's when a group of men from St. John's United Methodist Church in Aiken, South Carolina—average attendance 850—came to the rescue. They built a ramp outside of My Father's House, allowing the retired teacher to walk inside.
"We were thrilled, and so was the lady," Lamb says.
So was Steve Lathrop, president of the ramp ministry, which has been providing ramps for the Aiken community for decades.
"What we do helps others, following in line with the commandments of Jesus," he says. Lathrop also enjoys the four hours of fellowship surrounding each ramp project.
When Lathrop hears of a potential project, he first evaluates the site and then recruits about seven people from a pool of 40 volunteers, most of whom are retired.
The St. John's crew works Saturdays to construct an unpainted, 5- to 7-degree incline. Anything steeper than that is somewhat difficult to ascend, Lathrop says.
St. John's members started the ministry 20 years ago to help their congregation. They now serve anyone who needs a ramp, but mostly build for seniors. They construct about 35 ramps every year.
A golf tournament that Lathrop organizes builds support—about $7,000 annually—and congregants also donate money to keep the ministry going.
"Most people cannot afford to have a ramp built, and it gives me great satisfaction to help others," Lathrop says.
"They're just wonderful men who help the community," Lamb says. "They're willing to take their time and reach out."
Find more seniors outreach ideas »