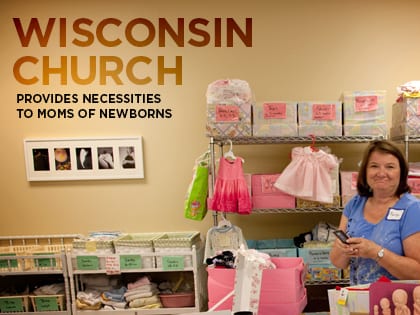 Blackhawk Church's Mother and Child Resource Ministry helps financially strapped mothers in the community.
One day in 1998, a social worker arrived at Blackhawk Church in Middleton, Wisconsin, with a young, single mother cradling a newborn, says Marilyn Beach. The pair came to her because they heard the congregation had baby clothes to give away.
The day before, an organization dedicated to offering alternatives to abortion closed one of its offices and gave its leftover baby clothes to Beach, a former volunteer with the group, to give to her church.
"This single mother needed things for her newborn," says Beach, "and that was really what started the ministry."
Since then, Beach and her 50 volunteers at the 5,000-member Blackhawk Church have donated nearly 3,500 boxes of baby clothes to financially strapped mothers in the community. Inside each gift-wrapped box are items such as diapers, sleepers, blankets, socks, fleece cover-ups and onesies.
"We give them seven of everything a newborn will need," Beach says.
When she started Blackhawk's Mother and Child Resource Ministry, Beach says she asked for volunteers through church bulletins and word-of-mouth. One hundred church members responded by donating secondhand baby clothing, she says.
Today, she and her volunteers meet regularly to sort clothes and pack the gift boxes. They deliver them to the new mothers in person. Beach says that demonstrating the love of God is the goal.
"Love is the language they need to hear right now."