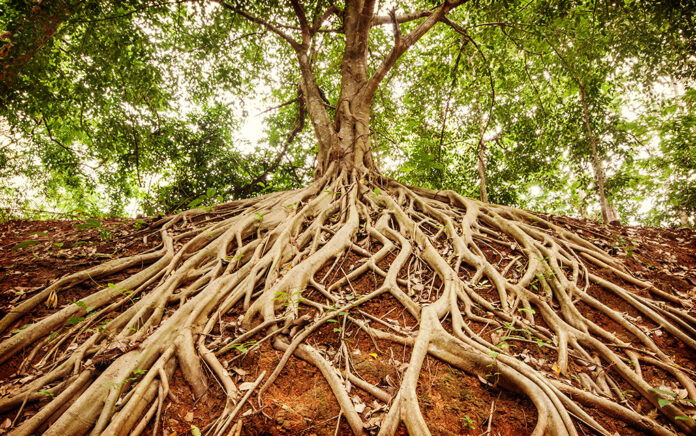 Lessons in Staying Rooted in God's Love
What comes to mind when you hear the word resilience?
Here are some definitions of resilience: "the ability to anticipate, withstand and bounce back from external pressures and shocks." "The ability to make the best of any situation." "Capacity to deal well with pressure." Here's a particularly Christian definition: "Resilience is having the strength to fulfill the call God has given us, even when it will be painful and difficult. Resilience is staying fixed on a higher purpose, motivated by love of God, our neighbor, and the world, and supported by friends. While others let us down, we are carried by the One who called us."*
Here I want to focus on the impact of God's love on our resilience. I believe it's a key resource for living resilient lives. Have a read of Ephesians 3:14–21 where Paul prays for the Ephesians.
The first thing to notice is that Paul is praying—this is supernatural. Paul is asking God to give understanding of how amazing His love is. It has to be the work of the Spirit that enables us to understand God's love and have it impact every area of our lives. I encourage us to pray Paul's prayer over ourselves and ask God for a fresh grasp of his amazing love.
Rooted in God's Love
In 3:17–19 he prays that the Ephesians "being rooted and established in love may have power, together with all the saints, to grasp how wide and long and high and deep is the love of Christ, and to know this love that surpasses knowledge—that you may be filled to the measure of all the fullness of God."
Picture a tree blown by the wind and lashed by rain. Or maybe being blasted by the heat. The Bible uses the analogy of trees and roots in a few places, for example in Psalm 1 which says the person who delights in the law of the LORD "is like a tree planted by streams of water, which yields its fruit in season and whose leaf does not wither."
What soil are our lives in? What holds our life in place? What feeds our roots?
I was really struck by the picture Paul paints of our lives being rooted in God's love. God's love is the soil for a resilient life. It brings a steadiness to our inner being. Picture the roots of your life in the soil of God's love. Your life planted in the soil of his love. Your life being nourished by his love. We're not meant to just get a boost once a week like drinking an energy drink but instead live in and from his love. Verse 19 connects knowing his love with being filled with God's fullness. We speak about feeling "empty" or "running on empty" which lessens our resilience, but staying rooted in God's love keeps us filled up emotionally and spiritually, even if our bodies are tired.
Trees planted in bad soil aren't healthy. Neither are fish swimming in sewage. The soil we're in affects the quality and resilience of the lives we live. For example, if we believe a lot of lies about ourselves, other people or about God, we're not going to be resilient.
This line from the song "Build My Life" speaks of God's love as our foundation:
"I will build my life upon your love it is a firm foundation
I will put my trust in you alone and I will not be shaken."
A Secure Identity
Paul prays to the Father, "from whom his whole family in heaven and on earth derives it's name" (v. 14–15). Followers of Jesus are children of God and he is our Father. We're adopted and accepted. We're welcomed. We have access to God. We belong in his family. We have his affection. We don't need man's approval or attention. There's no need to impress or compare ourselves with others. We have a secure identity or "name" that comes from God. He loves us and there's nothing we can do about it.
Being rooted in God's love holds us steady in the face of discouragement and keeps us firm against the lies of the Enemy and against our own negative self-talk. As the winds blow, as the trials come; we are secure in God's love. Romans 8 says that nothing can separate us from the love of God and that God has proven his love for us decisively at the cross. We see His love brightly on display in the gospel. We can know that we know that we know, we are loved by God.
In the midst of the changes and uncertainties his love is sure. Our identity in Christ stays the same when ministry changes or we can't do what we used to do or our plans are interrupted and we feel like we're living in limbo. We don't know what tomorrow brings but we know his love never fails and "that in all things God works for the good of those who love him" (Rom. 8:28).
Relationship With God
There is nothing more important for a resilient life than our relationship with God. A lot of practices, including exercise, hobbies, rest and friendships are helpful in maintaining resilience and we must keep engaging in them. None of them however, are more important than knowing and enjoying the love of God. To change the metaphor slightly from roots and soil to tree trunks and branches, there's nothing as important as abiding in Christ, where, as branches, we are connected to the trunk of the tree which is Christ (John 15). He is the Vine, we are the branches. His life sustains ours. Apart from him we can do nothing and we dry up and die. Connected to him we have the resources we need for the life he's called us to.
Our strength comes from God who is our Source. Paul prays that "out of his glorious riches he may strengthen you with power through his Spirit in your inner being" (v. 16). We are weak and poor but he supplies us with strength to live the lives he's called us to as we stay close to him.
The Fruit of God's Love
Being rooted and grounded in God's love compels us to share it. It leads to living a life of love. "Christ's love compels us," Paul writes in 2 Corinthians 5:14. It's like an overflow of God's love pouring out of us. People who are secure in their identity in Christ, knowing God's love for them, can serve like no other people on earth can serve. As we walk in God's love we want to give it away. We know how loved we are, how much grace we've received and we have to spread it around.
When Jesus washed the disciples feet, it says in John 13 that he "knew that he had come from God and was returning to God … so he got up from the meal … and wrapped a towel round his waist." He was secure in his Father's love who had said over him at his baptism, before he had done any ministry: "This is my son, whom I love; with him I am well pleased."
How do I see other people? Do I love them? Did I love well today? Not: how successful was this? Or "did I look good?" Or "this will look great in our newsletter." Rooted in God's love, we see people, not projects. Our work is full of love. Although we can't determine all the outcomes or how people will respond to our love or what 'results' we'll see, we can choose to love well. 1 Corinthians 13 is clear that even though I work hard I'm just making noise if I don't love people.
Also, something amazing happens when we love people. It does our soul good too. We are strengthened and encouraged in the process. It's what Jesus taught: "It's more blessed to give than to receive" (Acts 20:35). Doing what we're made for always brings life to our souls even though loving people can be hard sometimes.
We were made to be rooted in God's love with a secure identity, enjoying a relationship with God and overflowing with his love to the people around us. Let's keep this picture of our lives planted in the soil of God's love at the forefront of our minds.
This article originally appeared on the Burning Hearts Facebook page and is reposted here by permission.
* Quoted in Resilience in Life and Faith by Horsfall and Hawker.