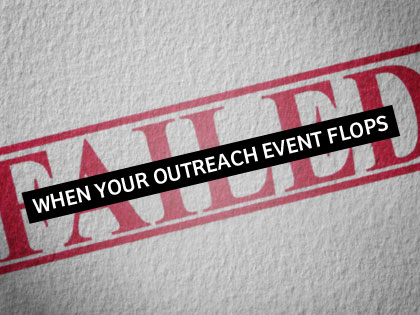 Lee Strobel: "If we're faithful to God, he's sure to work through us—even though we might not see the full results until heaven."
You've just wrapped up an outreach event at your church. As people file through the exit, what's the one comment attendees are most likely to make to you?
Say it with me: "That was great!"
Maybe the speaker bored everyone to tears, half the musicians never arrived, or only a handful of people showed up. But that doesn't seem to matter. People will still say how great everything went.
Chalk it up to politeness. The truth is we've all staged an outreach event and known deep inside it wasn't "great." It wasn't even mediocre. Instead, it felt like a bona fide failure. What do we do then?
When those difficult moments come, remember and learn from these five points that have encouraged me after a not-so-great gathering:
1. The only thing worse than failing is not trying at all.
My friend Rick Warren likes to tell his staff at Saddleback Church in Lake Forest, California, that they should have at least one monumental ministry failure a year.
At first, that idea sounds outrageous. But if we're not failing from time to time, we're not taking risks, we're not innovating and we're not stretching our faith. We'll never reach our communities for Christ if we're only playing it safe.
2. Celebrate what went right, but be honest about what went wrong.
Take time to publicly congratulate your team on their efforts that contributed positively to the event. Be generous in citing individuals who worked hard to pull off the event. Thank them for the prayers they offered and the hours they served.
At the same time, though, avoid sugarcoating reality. Don't pretend everything went well if it didn't. The best approach is to publicly accept responsibility for any shortcomings in the event, knowing that others will more readily concede their errors if the leader first admits his or hers.
If other team members made mistakes that contributed to the event's failure, talk to them about it in a private setting—always heeding the biblical admonition to speak the truth in love.
3. Avoid the "Great Evangelical Rationalization."
This phrase describes what often happens when a church puts on a less-than-effective outreach event, but by God's grace one person ends up receiving Christ. Then afterward someone on the team, hoping to make everyone feel better about the overall flop, speaks up and declares, "Well, it was all worth it for this one soul."
That's a half-truth. The real issue isn't how much one soul is worth. The more relevant question is: "What can we do differently next time so that five or 50 or 500 people might come to faith? How can we trust God more, pray with increased fervency, and tap more deeply into our God-given creativity, so that next time the harvest might be even greater?"
4. Learn lessons that can be applied to future events.
In addition to personally reflecting on the specific adjustments you should make for future events, actively solicit the feedback of both Christians and seekers who attended the event. When we avoid becoming defensive and instead sincerely weigh their critiques, we can usually glean valuable insights into how we can improve upcoming outreaches.
5. Keep in mind that only God sees the big picture.
Sometimes we see failure only because we're not privy to God's perspective. We want big results now.
If we're faithful to God, He's sure to work through us—even though we might not see the full results until heaven. "Let us not become weary in doing good," says Gal. 6:9, "for at the proper time we will reap a harvest if we do not give up."