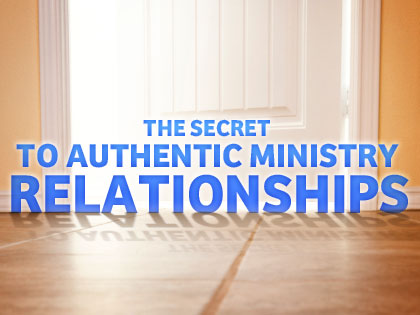 Cole NeSmith: "When are we going to learn that taking care of church business is not a replacement for relationships?"
The text message came on a Monday afternoon. I'd spoken at our church the night before, so I figured it was a typical "can we meet sometime this week" text message to let me know I had said something either profound or heretical. I invited McKenzie over to my apartment to have a conversation a couple days later. At about two on Thursday afternoon, my cell phone vibrated. It was McKenzie letting me know she was downstairs waiting for me to come let her into the building. We walked up the seven flights to my apartment, and then sat on separate couches facing each other.
"Do you know what I'm here to talk about?" she asked. I usually steer away from guessing games, but finding the question odd and considering McKenzie a rather normal woman, I decided to play along by throwing out a few suggestions. I looked out across the city through the sliding glass door, trying to remember the conversations we had engaged in the previous Sunday as we worked on an art project for that night's worship gathering.
"Um … you want to talk about how to motivate your friends toward living a life that means something," I said rather confidently.
"No."
"You feel like there's something you want to do with your life, but you need help getting there?" I suggested a bit less imperatively.
"No," she said. Being as aware as McKenzie is, she knew two guesses was enough. "I'm here to talk about you."
I had no idea what that meant. But after a brief moment of actually considering the possibilities, I asked her to proceed—fully recognizing it was going to happen whether I asked or not.
"You spoke on unity in the Body on Sunday, and I feel like there are some things in your life that are preventing unity between you and some of the people around you."
McKenzie and I talked through some of the things she had noticed in my life. I began justifying myself by suggesting if she were to talk to the people closest to me, they would have a completely different assessment of my actions. But, in the end, I admitted I do have a problem expressing love to those who are not close to me.
But here's the point of telling this story. In most church settings, a conversation like the one I had with McKenzie would have never even taken place. What's different? McKenzie has my cell phone number; she knows where I live; she's invited to my house; she has a picture of my life outside the church building; she's able to sit down and talk to me.
I've been around a lot of churches. There are a lot of good people who give a lot of their lives away. But one thing I've noticed is that most often, I talk more about "healthy boundaries" than I do about sacrificial living—offstage, at least. And I don't seem to be alone.