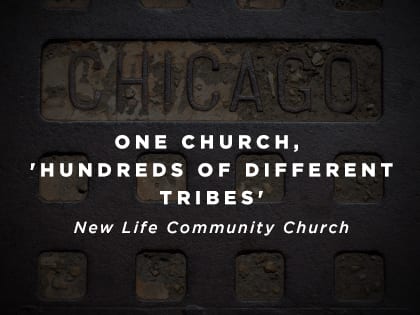 "It's not a branded approach. Each of the locations uniquely reflects each neighborhood."
This story is part of our series Chicago! Breath of Life in the Windy City, a detailed look at the astonishing work God is doing to multiply the effort of church planters and church-planting networks in Chicago.
"Not if I had a hundred tongues, every one shouting a different language in a different key, could I do justice to [Chicago's] splendid chaos." —George Warrington Stevens, visiting British journalist, 1896
Decades before church leaders gathered for conferences about becoming multiethnic, multicultural or multisite, Mark Jobe had a singular vision.
On the corner of 44th and Palina, he imagined transformation of the Back of the Yards neighborhood, even when, on hot days, he could smell a remnant of stench from former meatpacking plants immortalized in Upton Sinclair's 1906 novel, The Jungle.
After the church grew to more than 700 people, the New Life leadership team gathered in 1995 to claim 1 percent of Chicago for God. "We asked, 'What would a church like that look like?'" says Jobe. "We believed it would be multiethnic in multiple locations; it would be saturated in prayer and it would raise up leaders to plant other churches."
Currently, nearly 7,000 people attend New Life in 24 locations planted throughout the city—from ministering to young white professionals in Lincoln Park to Mexican migrants in Little Village.
"We are one church, but none of our locations look the same," Jobe says. "It's not a branded approach. Each of the locations uniquely reflects each neighborhood."
In many ways, New Life pioneered a new wave of church planting in Chicago, based on an understanding of the diversity of Chicago's 77 neighborhoods.
"When you talk about reaching the city, you talk about hundreds of different tribes," says Jobe. "Each tribe has its own ethnicity, culture and language, and value systems. As church planters in Chicago, we look at ourselves like missionaries reaching different countries and learning different languages."
In the great diversity of Chicago's neighborhoods, the splendid chaos makes the nation's third largest city a great challenge for church planters. Gang violence in war-torn neighborhoods rises in a cocktail of problems: disinvested high-rise projects, poverty, injustice, corruption and a scarcity of jobs and hope.
In 2016, 762 murders were committed in Chicago, more than New York City (334) and Los Angeles (294) combined, and far higher than its 2015 tally of 485. Much of the violence was driven by gang activity on the south and west sides of the city; 75 of the perpetrators—and victims—were young black men.
"Chicago is a hard city to reach," Jobe says. Few church plants reach more than 100 attendees. In New Life's own plants, the largest single gathering is about 1,500, but the rest are somewhere between 100 and 300.
Through New Life Community's church-planting experience, Jobe has learned to:
Prioritize relationship over information;
Build a pipeline of leadership through a compelling vision;
And saturate the neighborhood with a kingdom of God culture.
"We put young people in colleges for four years of knowledge," says Jobe. "They get bored and blow off classes. When young leaders get really motivated is when you ask them to do something that's too hard for them. Once you have a compelling vision, you have a release strategy that creates an upward suction."
A compelling vision of neighborhood transformation empowers gospel outreach in ways unique to each community. Jobe tells the story of creating a softball league in Little Village, a Latin community divided by the Kings and the Two Sixers gangs. When New Life planted a church on both sides of the gang line, they started a softball league. About 300 men, most gang-affiliated, played softball together and violence dipped dramatically in both communities.
Each summer, the city now pays New Life to lead the softball league.
"These two teams from the west side and east side—two gangs usually shooting at each other—are playing softball together and we are the ones who lead and host it," Jobe says. "That's what I mean by a kingdom of God culture."
Additional Chicago Church-Planting Stories: