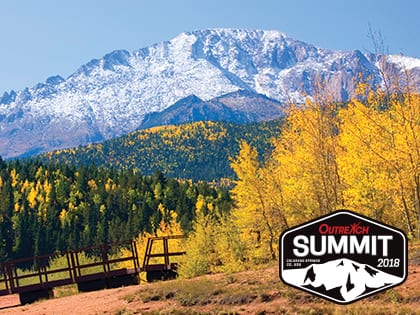 Join pastors from 2018's Outreach 100 Fastest-Growing Church in America for a time of learning and collaboration, Oct. 3–5 in Colorado Springs.
Join pastors from 2018's Outreach 100 Fastest-Growing Churches in America to hear their insights and discover practical ways that any church of any size can move toward greater health and more dynamic outreach.
The event, which convenes Wednesday through Friday, Oct. 3–5 in Colorado Springs, is a unique blend of vision, inspiration and practical ideas, presented in an interactive format with open Q&A opportunities and 14-minute segments from pastors of rapidly growing churches.
LEARN
Pastors from this year's Outreach 100 Fastest-Growing Churches will share candidly what they've learned that works, as well as some of the challenges and misfires along the way while moving toward a healthy church.
MEET
The Outreach Summit affords opportunities to network and meet pastors from all around the country and churches of every size. We will gain insight as we interact with presenters and with one another.
GROW
The program is a unique blend of vision, inspiration and practical ideas you can apply immediately. We will talk about community outreach and explore together both the hindrances and the catalysts for growth and health.
Summit 14ers
Outreach 100 pastors share their experience in a fast-paced, interactive 14-minute format. Each 14er includes Q&A and discussion opportunities.
Summit Panels
Panelists take a deeper dive into how they have addressed initiatives that resulted in healthy church growth. Thirty-minute moderated discussions, followed by 30 minutes of direct Q&A with attendees.
Summit Keynotes
Influential pastors and thought leaders bring unique perspective, some as church planters, others as pastors of healthy, growing churches. Regardless of their paths, each brings insights for pastors who want to nurture a church community that transforms more lives.
WHEN
Wednesday, Oct. 3, through Friday, Oct. 5
WHERE
The Colorado Springs Marriott
Conveniently located next to the Outreach headquarters
5580 Tech Center Dr.
Colorado Springs, CO 80919
COST
Take advantage of the special early bird rate of just $129 for a limited time. This unique conference has limited space, so secure your spot today.
Why Should I Attend?
The Outreach Summit is unlike any other church leader conference. Only at The Summit will you meet and hear from the pastors of the most innovative and fastest-growing churches in America. God is doing something great in these churches to reach people for Christ and The Summit provides you a unique opportunity to learn and ask questions. The Summit will also include highly practical sessions and workshops on outreach, social media, communication, evangelism, assimilation and much more. You will come away with fresh new ideas and practical tools that you can apply in your church.
Who Should Attend?
Senior pastors, campus pastors, evangelism and outreach pastors—The Outreach Summit is designed for pastors and ministry leaders who are directly involved in church growth and church health strategies, evangelism and outreach and communication strategies.