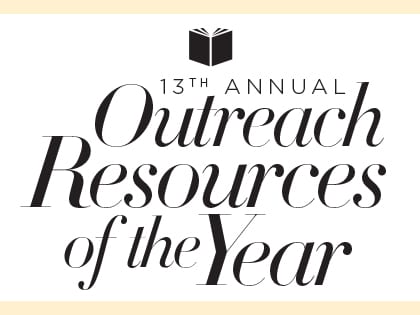 Every fall at Outreach magazine we anticipate searching for the year's best resources in evangelism, leadership, discipleship and more. It's a chance to get our hands on some of the most innovative and challenging books and curricula that were offered over the past year … and pass the best of those on to you. Each year, as trends in publishing emerge, the categories require modification—signaling that church leaders are continuing to demand thought-provoking ideas from a diverse set of resources. From apologetics to social justice, culture to relationships, every aspect of ministry is covered this year.
We connected with hundreds of publishing professionals and authors and received 197 submissions for books and curricula that were published between Nov. 1, 2014 and Oct. 31, 2015. We divided the submissions into 13 categories and narrowed our initial number down to 152 selections that were sent to panelists in each category. We asked the panelists to select one or more Resources of the Year, as well as choose additional titles that are "also recommended."
This year marks our 13th annual Outreach Resources of the Year, and we hope you'll find the selections and thoughts from our panelists valuable as you seek out those resources that will be the most useful to you.
This Year's Categories:
APOLOGETICS
EVANGELISM
SOCIAL JUSTICE
CROSS-CULTURAL
CHURCH
LEADERSHIP
CULTURE
DISCIPLESHIP AND SPIRITUAL GROWTH
COUNSELING AND RELATIONSHIPS
DEVOTIONAL
INSPIRATIONAL
CHILDREN
YOUTH