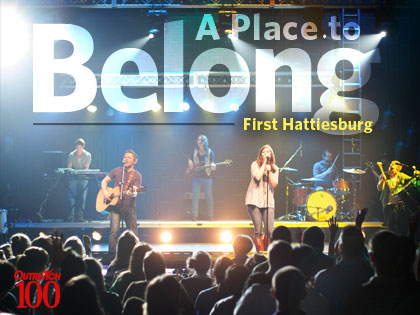 Jeff Clark: "When we got past losing all the rich people and the community influencers, we exploded in growth. It freed us up to be who we really are: a church for the unchurched."
View the complete Fastest-Growing list >>
First Hattiesburg
A 2013 OUTREACH 100 CHURCH
#32 FASTEST-GROWING
Ashley Hatten, 29, grew up going to church, but as an adult, her many tattoos and piercings kept her away.
"I felt like I couldn't walk into any church where they wouldn't judge me and say, 'Why is this girl coming in our church?'" the Hattiesburg, Miss., resident says.
In May 2012, a friend invited her to try First Hattiesburg, promising a different experience. Hatten, separated from her husband and looking for something missing in her life, reluctantly agreed.
"There were [greeters] holding the doors, and not one person looked at me like, 'What is this girl doing walking in here?'" Hatten says. "I didn't feel like anyone was judging me by the way I looked. I walked in and felt accepted."
Today, Hatten and her husband are reunited and attending church regularly with their three children, and Hatten is beginning her second year teaching a preschool Sunday school class.
"The parents love and trust me, even with my 'look,'" she says. "That's the kind of church it is."
She's not the only one to find acceptance here. At First Hattiesburg's 11 a.m. service, the auditorium's front row fills with people in treatment at a local sex addiction clinic and other nearby rehabilitation centers. A 20-something biker sits behind a grandmother. A meth addict is serving as a volunteer, and a professed agnostic assists in family ministry. All are at ease grabbing an Americano at the coffee bar and finding a comfortable seat in front of the stage. The fun begins with concert lights and a mix of high-energy secular and Christian music, followed by a conversational, grace-filled message from Pastor Jeff Clark.
"With an experience they recognize, guests are able to participate at a quicker pace than they could in a traditional church service," Executive Pastor Jason Golden explains.
"We have tried to create an experience so unlike what people typically perceive as church that they talk about it and want to bring people to it," says Jeff Powell, director of worship programming. "That is primarily the reason we are growing."
And First Hattiesburg has grown 167 percent over the past three years, averaging more than 100 first-time guests every weekend.
"Over the past four years, we've had more than 400 baptisms, and more than half of those have been adults coming to know Christ," Connections Pastor Jay McGuirk says.