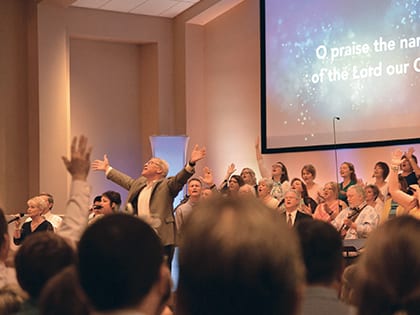 Living on Mission
Georgia's Peavine Baptist Church Leads the Way in Evangelistic Revival
Weeks before Easter 2017, Joel Southerland approached his staff at Peavine Baptist Church in Rock Spring, Georgia, with a question. As they were wrapping up their strategy to invite the community to church on Easter Sunday, the senior pastor put all the cards on the table.
"We've laid out our plan," he said. "If I removed the financial element of it—if I said money is not an object, resources are not an object—what's the one thing you would do?"
The church had already put forth a serious effort to mobilize the congregation for invitation and outreach. Southerland had written an email that members could copy and paste to send to friends. They passed out yard signs and created social media content for members to share. What else could be done?
One staff member responded, "Look, we've done everything but hire a plane to fly over with a sign that says, 'Come to Peavine on Easter.'" Southerland said, "Somebody find out how much that will cost."
So one Sunday, a plane flew over the church's neighborhood and the Chattanooga, Tennessee-Georgia metro area, toting a sign that read, "Easter at Peavine," with the church's website URL.
"When both Sunday services dismissed, we had the plane fly over the church," Southerland says. "And I ushered the whole church out to the parking lot and said, 'Go take pictures and videos, and we'll give away a prize to the people who do the most creative social media post and share it."
By that afternoon, members had crafted videos and images and shared other creative posts. "We didn't think we'd get a lot of traction from a plane flying around," Southerland says, "but it helped encourage and mobilize our members."
The efforts paid off—Peavine more than doubled its attendance, from around 1,300 people on a typical Sunday to 3,000 on Easter. In fact, the church has grown 48 percent overall in just 20 months.
Southerland, who also serves as executive director of evangelism for the Southern Baptist Convention's North American Mission Board (NAMB), accepted the call to become Peavine's senior pastor in late 2016, following a year of being the church's interim pastor. His dual role allows him to lead denominational evangelism efforts while applying the principles he teaches in a local-church setting. "I jokingly say I'm drinking my own Kool-Aid," Southerland says.
In his role with NAMB, Southerland studies the denomination's top evangelism churches, which the SBC defines as churches that report a large number of annual baptisms relative to their size. From these churches, Southerland has extrapolated three evergreen principles that characterize highly evangelistic congregations. The first principle: Evangelism-minded churches have pastors who are evangelism-minded leaders.
"Highly evangelistic churches have a pastor who leads on mission," Southerland says. "I don't find a highly evangelistic church that doesn't have a highly evangelistic pastor—that's the bottom line."
In far too many churches, he says, the pastor talks about the importance of evangelism but doesn't give the congregation any practical resources to help them share their faith.
"When a pastor just preaches evangelism but he doesn't give the tools or resources or clarify the 'win,' he heaps guilt on people and frustrates them," Southerland says. What is the "win" when it comes to evangelism? "You're going to invite people to church, you're going to share Christ and you're going to get rejected all the time. But the 'win' is you were obedient in doing that," he says.
Hiring a plane before Easter is just one example of how Southerland has led the way in intentional evangelistic leadership at Peavine. The church launched 2017 with a 40-day devotional series through the book of Acts to get members thinking about gospel mobilization. He's made a point to give a gospel invitation at the end of every weekend service, along with setting up a next-steps station by the door for those who have spiritual questions or want to take a step of faith. "Almost weekly we're leading people to Christ," Southerland says, adding that the church has baptized more than 150 people so far this year.