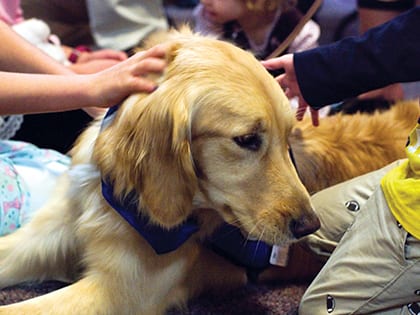 Using Man's Best Friend to Heal Broken Hearts
The Church: Memorial Lutheran Church in Katy, Texas
The Challenge: Identify a way to broaden the church's outreach ministry
One Big Idea: Use comfort dogs to minister to hurting people in local communities
On a recent visit to a nursing home, Stacy Bretting saw a man in his 80s sitting on a bench inside a hallway. He seemed disheartened and distressed. Bretting was visiting that day with her outreach team member Damaris, a 2-year-old, purebred golden retriever, as part of Memorial Lutheran Church's comfort dog ministry.
"Damaris just kept looking at him and looking at him," says Bretting, "and finally I said I needed to visit with this gentleman."
Almost immediately, Damaris placed her front paws on the bench to rise up and get close to the man's face.
"I found out that he was a veteran and had lost his golden retriever," says Bretting. "He really missed his dog and just started sobbing when I brought Damaris over to see him. It brought tears to his eyes and a smile to his face."
Nathan Engman, Memorial Lutheran's director of discipleship and a comfort dog handler, says the church started its comfort dog ministry in 2015 after leaders heard a talk about the Lutheran Church Charities (LCC) K-9 Comfort Dogs program.
LCC, a nonprofit based in Addison, Illinois, supports human care ministries of Lutheran churches. The organization trains golden retrievers—that experts say have friendly and obedient temperaments—to be a calming influence on people. To become a certified LCC K-9 comfort dog, the animals must complete about 2,000 hours of training.
"We felt like it would fit in well with our church's mission focus and with what we wanted to do for our community," Engman says of his Katy, Texas, church. "We wanted to serve our community and not just the people inside our church."
Bretting, coordinator of Memorial's Comfort Dog Ministry, says they accept invitations from anyone in the community who asks. They frequently visit schools, nursing homes, a local hospital and different service organizations where people can pet Damaris, share their feelings and ask team members for prayer.
Engman says Damaris still participates in weekly training sessions and now has her own Facebook page. When not on duty, she lives with a church member.
"Dogs don't judge people," says Bretting. "They have such a calming influence about them. Damaris will make eye contact with people and they just drop their stress and worries and start petting her."
Most recently, Damaris, along with more than a dozen other comfort dogs from around the nation, walked through neighborhoods in Houston and other nearby cities to minister to victims of Hurricane Harvey and first responders and to visit churches.
"People would come onto their sidewalks and stop and visit with us," says Bretting. "They were thankful to see the dogs and to talk with us."
Since the ministry's inception, Bretting says she knows of one person who visited their 350-member church after meeting Damaris. She and Engman say, however, that church growth is not the ministry's purpose—Damaris' role is to give hope to hurting people and help the team represent Christ in the community.
"She is the bridge," says Engman, "to open a conversation about Jesus."