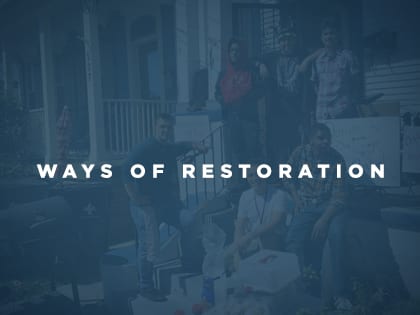 Canal Street Church embraces holistic restoration that heals families, provides hope and changes lives.
The Church: Canal Street Church in New Orleans, Louisiana
The Challenge: To provide job training and spiritual discipleship to a city that is spiritually burned-out.
One Big Idea: Embracing communitywide holistic restoration that heals families, provides hope and changes lives.
David, a young man living in New Orleans with his wife and seven children, spent much of his time under the influence of drugs. His addiction caused him to lose everything—his wife, his kids, his morals and his freedom. With a criminal record, no marketable job skills and nothing but a yearning for the next high, David felt hopeless—until, that is, he was given a job through the Restoration Initiative for Culture and Community (RICC), an outreach ministry of Canal Street Church.
"We figured the best way to reach our diverse city is by offering job training programs," says Page Brooks, senior pastor of the church.
RICC only hires men with criminal backgrounds, offering them both skills training and spiritual discipleship. In David's case, RICC also helped him get clean and sober. Once his life was back on track, his wife took him back and he secured permanent employment.
"This is our goal—to see a holistic idea of restoration," says Brooks.
Canal Street Church, a multiethnic, multicultural community with an average weekend attendance of 170, originally started out as a nondenominational church plant that met in the building of a historic Presbyterian church where the congregation had lost its minister. Brooks acted as interim pastor of the Presbyterian church in the mornings and lead pastor of the church plant in the evenings until September 2012, when the entities merged into one, creating Canal Street Church: A Mosaic Community.
"This city is burned-out, spiritually, in terms of organized religion," says Brooks, who describes New Orleans as a mix of Protestants, Catholics, Voodoo worshippers and New Age followers. As a result, Brooks notes that ministry has to be very relational. Thanks to RICC, which also provides ESL classes, kids camps, and after-school programs, Brooks and others from the church have become well-acquainted with members of the community.
"When we get to know families intergenerationally by ministering to the kids in the after-school program and to their parents in the ESL classes, we're better able to minister to them in times of need," says Brooks. "Giving people success at life by way of the power of the Spirit—that's the bedrock of what we do."
Find more ways to serve your community »
CANAL STREET CHURCH
New Orleans, Louisiana
CanalMosaic.org